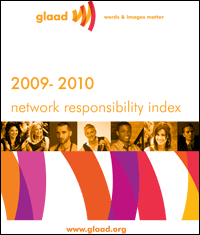 GLAAD has released their fourth annual Network Responsibility Index, "an evaluation of the quantity, quality and diversity of images of lesbian, gay, bisexual and transgender (LGBT) people on television." GLAAD reviews the programming on all the major broadcast networks and 10 major cable networks and gives each a grade of Excellent, Good, Adequate, or Failing.
As I've argued before, media representation is important to humanize LGBT folks to a wider audience and to show queer and trans folks, especially youth who may not be a supportive environment, that other people like them exist and can be OK.
This year's report shows a marked improvement in the representation of LGBT folks on TV. Some key findings:
This year, MTV becomes the first network, cable or broadcast, to receive an "Excellent" rating in this report due to the quality and diversity of its many LGBT impressions. Of the 10 cable networks evaluated, MTV posted the largest increase and ranked highest for LGBT-inclusive original content. Out of 207.5 total hours of original primetime programming, 87 (42%) hours included LGBT impressions. In addition to the racial and ethnic diversity of its characters, MTV also represented a broad cross-section of the LGBT community in its programming.
After three years in second place, The CW is now the top broadcast network in this report with 198.5 (35%) LGBT-inclusive hours out of 570 total hours of original programming. This is the highest percentage ever recorded for a broadcast network since this report's inception, though it should be noted that The CW airs less total primetime programming hours than the other broadcast networks.
For the first time since GLAAD began this report, all of the five major broadcast networks posted  an increase in LGBT-inclusive primetime programming hours. However, CBS continues to lag behind its competitors, once again earning a "Failing" grade.
I'm not surprised to see better representation on cable, where shows can be targeted at a smaller market and content that's censored on broadcast stations is allowed. This becomes an issue of access to representation – we didn't have cable growing up, which means I missed out on some of the few queer characters on TV at the time. It was impossible to figure out who I was when I saw no positive examples of transgender folks reflected back at me anywhere.
I'm also not surprised to see the CW move to the top of the broadcast list – the network's programming is aimed at young folks, who have higher rates of acceptance for LGBT folks and support for LGBT issues than other generations. The CW was also mentioned in the index for having the most racial/ethnic diversity of any broadcast network.
I appreciate the nuanced take on representation in this report. FOX is commended for overall improvements in their programming but criticized for offensive humor in their Sunday cartoons. ABC is called out for representing overwhelmingly white LGBT characters. All networks did poorly representing Asian Pacific Islander LGBT folks.
One thing I would like to see emphasized more in the index is the need for transgender representation. Trans TV characters and personalities are mentioned in the report, like repeats of the America's Top Model cycle featuring Isis, a trans woman, helping the CW's rankings. But I would like to see GLAAD call for deliberate and positive representation of trans folks on TV.
I think the major take away from the index this year is how much better networks are doing. There really does seem to be a marked improvement in the representation of gays and lesbians on television, and even slow growth in representation of bisexual and transgender folks.