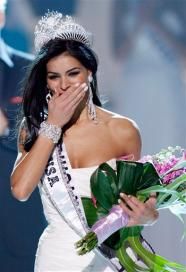 I am no fan of the Miss USA competition or its skeevy owner Donald Trump. But I do think it's significant that Rima Fakih, who is Lebanese, Muslim, and an immigrant, won this year's competition yesterday. Fakih is likely the first Arab American, Muslim or immigrant to win Miss USA. If nothing else this says something about shifting standards of beauty in a culture dominated by representations of white women as attractive. Fakih shows young Muslim and Lebanese girls that they too can be considered beautiful. Yes, part of a fucked up system of beauty, but this is still a meaningful change.
I'm also pretty excited by Fakih's answer to a question about birth control:
During the interview portion, Fakih was asked whether she thought birth control should be paid for by health insurance, and she said she believed it should because it's costly.

"I believe that birth control is just like every other medication even though it's a controlled substance," Fakih said.
Glad that's the answer associated with the competition's winner, especially since the first runner-up, Morgan Elizabeth Woolard, expressed support for Arizona's racist new immigration law in her interview.
And of course right wingers are flipping out about a Muslim winning the competition (doesn't really matter that Fakih identifies as both Muslim and Christian). From TAPPED:
Michelle Malkin is savvy enough to mostly cloak her freak-out behind horror over Fakih's politics (although she can't resist a dig at those "identity politics" people), while other conservative bloggers just go ahead and call her a terrorist. Professional Islamophobe Daniel Pipes combs the internet for other instances in which Muslim women have won beauty contests, and concludes there's some kind of "an odd form of affirmative action" going on. Because how could anyone choose a Muslim over a "real American" in a beauty contest?
Makes it pretty hard to buy claims folks aren't racist, they just hate Muslims and Arabs because they hate the U.S. Because what's more mainstream "American" than competing in and winning the Miss USA contest?