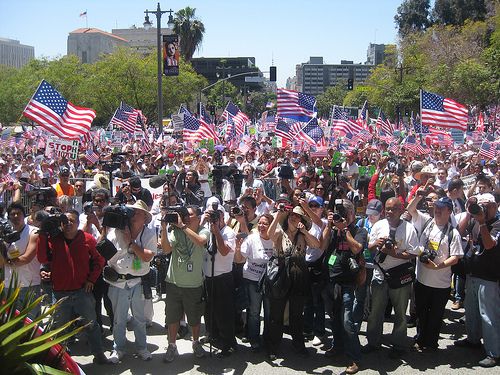 Immigrants rights protest in Los Angeles, CA.
May 1st is International Workers' Day and in recent years has been a day of take action for immigrants rights in the U.S. This year saw an escalation of tactics to demonstrate to the Obama administration the urgent need for immigration reform. This escalation also represents anger and resolve to win immigration reform following the passage of Arizona's racial profiling law.
The largest action took place in Los Angeles, CA where as many as 60,000 people took part in the march. Demonstrations occurred in over 70 places across the country.
Protesters numbered 25,000 in Dallas, more than 10,000 in Chicago and Milwaukee, in the thousands in San Francisco and here in Washington, D.C., according to the police and independent estimates.
In Washington, DC the protest was led by the Trail of Dreams trekkers, Felipe Matos, Gaby Pacheco, Carlos Roa, and Juan Rodriguez, who walked 1500 miles from Florida to DC in support of the DREAM Act, which would make a college education possible and create a path to citizenship for some undocumented immigrants. (The walkers had some of their equipment stolen in DC. Click here to support them with a donation.) Click here to take action in support of the DREAM Act.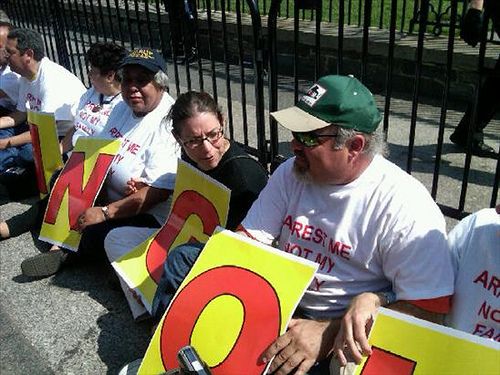 Protesters stage sit-in in front of the White House before being arrested.
In DC 35 protesters, including Representative Luis V. Gutierrez of Illinois, were arrested when they staged a sit-in in front of the White House.
"There are moments in which you say, 'We will escalate this struggle,' " [Representative Gutierrez] said. "Today they will put handcuffs on us. But one day we will be free at last in the country we love."…

Mr. Gutierrez was handcuffed behind his back with plastic cuffs by the Park Police, and he walked in silence when an officer led him away along the black wrought-iron fence in front of the White House. Among others arrested with him were Jaime Contreras, director for Washington, D.C., of the Service Employees International Union; Joshua Hoyt, Ali Noorani, Deepak Bhargava, and Gustavo Torres, leaders of immigrant advocate organizations; and Gregory Cendana, president of the United States Student Association.
This act of civil disobedience is part of an escalation of tactics on a number of issues that organizers are frustrated have not yet seen action spearheaded by the Obama administration. Protesters have been arrested opposing Don't Ask Don't Tell and fighting for the passage of ENDA. Risking arrest to raise awareness and urge political action can be a risky tactic, especially for members of marginalized populations who suffer discrimination and abuse when arrested, including transgender folks who have participated in recent actions. These protesters all have my greatest respect and support.
Take action now to support immigration reform.
RELATED: Immigration is most definitely a feminist issue, 6 out of 10 migrant women raped in Mexico