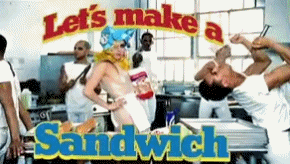 This just makes me sad. Early on in a New York Magazine profile of Lady Gaga we get this quote:
At five-two and 100 pounds, with her hair styled into a mod blonde bob, [Lady Gaga] looked flush from a strict diet of starvation: "Pop stars should not eat," she pronounced.
Gaga gets a lot of credit from feminists (myself included) for creating a pop art space where marginalized young people who feel like freaks and weirdos can be at home. So it's disappointing to see her speak so flippantly about the dangerous body image issues and disordered eating that is supported and encouraged through pop culture. At the same time, the honesty is almost a relief – at least Gaga is being open about the expectation that female celebrities starve themselves. Now we just need to change that standard.