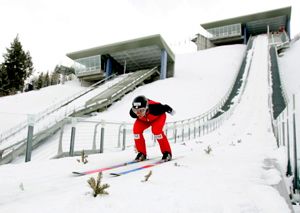 This week, Sports Illustrated ran an article about sexism in Olympic sports, using the example of ski jumper Lindsey Van, whose sport, despite her best efforts, is not yet allowed in the Olympics. At least, not for women. This year, men's ski jumping was an Olympic event, but women's ski jumping is yet to be recognized by the International Olympic Committee, and like Van, the author of the story believes that its exclusion is a result of sexism on the part of the IOC.
Van is the 2009 women's world champion in the sport, and as Rachel Maddow has noted in her coverage of this issue, she holds the world record – not just the women's record, but the world record -in one of the events. In fact, as Maddow pointed out, Van set that world record on the very hill that was used for the Olympic competition in Vancouver last week.
Both Maddow and Phil Taylor, the author of the SI article, suspect that sexism is at play in the decision not to make women's ski-jumping an Olympic sport, and it's hard not to agree with that assessment when members of the International Ski Federation say things like, "Don't forget, it's like jumping down from, let's say, about two meters on the ground about a thousand times a year, which seems not to be appropriate for ladies from a medical point of view." Two meters? That's 78.7401inches! A thousand times a year? My ovaries are running away in fright at the very thought!

The Canadian courts sided with Van and the other jumpers who filed a suit against the Vancouver Organizing Committee, but as Community blogger Honeybee noted earlier, the Canadian courts don't have the authority to order the IOC to change their decision.
Sadly, the situation with women's ski-jumping is just one example of sexism at work in women's sport. Taylor puts it beautifully in the SI article:
"Sexism isn't confined to any sport or country. It's a universal language, spoken not so much with words as with action, or the lack of it. Female hockey players from many of the European countries competing in the Olympics, for instance, have seen their national federations' lopsided spending on the men's programs as a loud and clear message that they are considered mere afterthoughts. In Russia, where hockey is the national pastime, the women couldn't begin practicing until three weeks before the Games because of budget constraints."
And of course, it's not only in Russia that women's ice hockey gets the short end of the stick; this seems to occur on an international level, too. At Global Comment, Sarah Jaffe observed that she had "heard almost no discussion of women's ice hockey… The women's games seem to be held at times that won't 'interfere' with the men's tournament or other events that need the ice." It hardly bears mentioning, of course, that the shunting aside of women's professional sports doesn't just happen every four years – it's a year-round phenomenon, especially here in the US.
It's important to make the distinction, as Jaffe does, between individual sports and team sports. "Think of women athletes you've seen on TV recently," she writes. "Chances are most of them are individuals," offering Serena Williams as an example. Even when we are presented with women's sports teams, they're either sexed up, to minimize their deviance from traditional femininity, or, as Jaffe notes, we're encouraged to focus our attentions on one or two especially photogenic team members, like Mia Hamm.
In response to our lack of national support for women's pro sports, and women's team sports, especially, Veronica Arreola of Viva La Feminista is encouraging people to take this simple pledge: "I pledge to attend one women's sports event in 2010." It can be a college game or a pro game, it doesn't matter – the point is to show your support, with your presence and with your cash, since lack of spectators and lack of money are two common explanations given for the middling success of women's pro sports in this country. There's even a Facebook group you can join. It's so easy, and if you've ever played competitive sports, you know how great it feels to have a crowd cheering you on. So go buy one ticket. Go to just one game. And be one more yelling, screaming, women's sports-supporting person in the crowd. You can even wear facepaint if you really, really want to.