Earlier this week Laura Chinchilla was voted in as Costa Rica's first female president.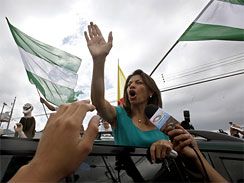 The socially conservative, pro-business former vice president hails from the party of incumbent President Oscar Arias, a Nobel Peace Prize winner for his work in the 1980s to end Central America's wars.

Chinchilla's victory was widely seen as a vote for continuity in a politically stable country that enjoys one of the region's highest standards of living.

It's the first time Costa Rica has chosen a woman to lead the nation. Chile's Michelle Bachelet and Argentina's Cristina Fernandez de Kirchner are the other female chief executives in Latin America. In the past, Panama and Nicaragua also had female presidents.
I suppose this is one of those things you would be excited about..except, Chinchilla is opposed to same-sex marriage, abortion and the morning after pill. We are proven once again that having a vagina does not ensure you will protect others that have them.

Women's Glib as more on this conundrum and Matthew Cordell on the rise of female leadership in South American countries.