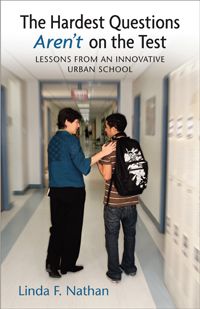 People are always surprised when I talk about how much I loved my high school, that is unless they also attended the Boston Arts Academy (BAA). Yes, I entered high school a pro-life Christian fundamentalist, and I didn't come out as transgender until well into college, but besides being a teenager high school was one of the best experiences of my life.
BAA is an urban public high school for the visual and performing arts. Students audition for their arts major to get into the school, but previous academic success is not part of the admissions process. The school is racially and economically diverse, and students bring a range of academic experience and achievement. About half the day is spent in non-tracked academic classes and the rest is spent studying one's art major. Getting to do something I love for so much of the school day helped make high school a place I wanted to be (staff literally has to kick students out of the building hours after the school day ends). The school strives to link arts and academics so student artistic achievement can translate into other areas as well. And they're doing a great job – the school has a 94% college acceptance rate, pretty much unheard of among schools with a similar socioeconomic breakdown in this grossly underfunded district.
Linda Nathan, the school's founding headmaster, has written a book that outlines her experience of the creation and growth of BAA. Reading The Hardest Questions Aren't on the Test: Lessons from an Innovative Urban School brought back so many memories and emotions for me. I was sometimes moved and inspired, sometimes enraged, just like when I was at BAA. The book highlights the deliberate process of asking the right questions that has informed every major decision at the school. While gaining insight into how BAA was formed I also realized the degree to which students were encouraged to question as well. This is dangerous: the idea of encouraging young people to ask the hard questions probably scares a lot of educators who would expect rebellion. And yes, BAA can be a contentious community, but it is very much a community. Students, teachers, and staff feel an ownership of the school that creates a powerful learning community where everyone works and grows together. This is education for liberation, what I believe public education should be.

Nathan discusses the school's approach to issues of identity, especially race. At BAA students and teachers talk openly about race and racism in a way I've never seen modeled anywhere else. Much of my academic and organizing work since high school has focused on racial justice, but the most honest conversations I've had about race are still with other BAA alums. Which is not to say I loved this in high school – Nathan tells the stories of a number of white students resisting the school's focus on race, stories that are not about me explicitly but easily could be (the story about the walk out against the Iraq war – that's me). I went through a difficult process where I pushed back while my teachers and classmates challenged me and generously created a space for me to learn and grow.
Nathan also addresses achievement within the school community along racial and gender lines. This is very different from the typical writing about male underachievement in school. Nathan talks about a concrete reality and doesn't ignore intersecting identities, discussing grades that are starkly lower for African American male students than for other groups. And she also talks about the hard, controversial, and ultimately powerfully productive process the school is still engaged in of addressing and changing this reality, striving to create a school where every student excels.
BAA is not perfect. Part of what makes the school special is an openness around its struggles and willingness to recognize and engage with mistakes. Reading about an incident involving queer identity that occurred after I graduated and that Nathan mishandled infuriated me. But the willingness to share this mistake, and the complex questions it brought up, is an example of why BAA is excelling: the school doesn't try to bury hard realities, but faces them head on.
Urban public education in the U.S. is a travesty, a crime perpetrated against our young people. BAA is a living example of how to do public school right – creating a learning community where young people are taught they do have value, their ideas matter, and they can achieve greatness when they work hard and are given the necessary resources. I'm so grateful to Linda Nathan for putting her story of BAA's early days down in book form. I hope this example can help create a reality where more urban youth are given the opportunities and encouragement I had.