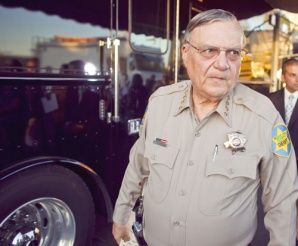 This is what an asshole looks like.
In Sheriff Joe Arpaio's world, this is acceptable behavior.
The most recent atrocity committed by the self-proclaimed "America's Toughest Sheriff" involves a woman who was detained while 9-months pregnant. Alma Minerva Chacon's case has been receiving media attention due to the brutality with which she was treated. The very same night of her arrest, Chacon went into labor and found herself afraid and alone, being rushed to a local hospital with her hands and legs chained in shackles.
Once she reached the hospital, nurses repeatedly begged the Sheriff's staff to allow them to unchain the mother, but they refused and Chacon was forced to give birth while still shackled to the bed. At one point, the nurse asked for them to release her so that she could be escorted to the bathroom for a urinalysis, but even that request was denied. But the worst came once Chacon gave birth to her baby girl.
Still chained to the bed, Arpaio's police staff refused to allow Chacon to hold her newborn baby and then warned her that if no one came to pick up the child within 72 hours, she would be turned over into state custody.
via Latina.com
This is disgusting. We are well aware that Arpaio is no charmer, tasking himself with attempted eradication of Latinos in his fair state of Arizona, but this is horrifying. Not only is it a basic negligence of a person's basic human rights, it is a very misogynistic act of control, denying a mother the ability to give birth in a safe and healthy way or allowing her to see her child. You must really hate a group of people to legislate in this way. And well, law dictated by personal feelings of hatred is not really law at all.
It is also worth noting that Arpaio was told by (the notorious!) US Immigration and Customs Enforcement that he will be losing power to carry out the ridiculous extension of federal law given to some local enforcement by ICE.
U.S. Immigration and Customs Enforcement officials said Friday that they limited the ability of the Sheriff's Office to enforce federal immigration laws because of the office's record of conducting wide-ranging crime sweeps intended to identify illegal immigrants. Those sweeps – the Sheriff's Office has conducted 11 in the past year and a half – have led primarily to arrests of people who have not committed serious crimes. The revamped federal program places a priority on going after dangerous criminals, not illegal immigrants encountered as the result of minor offenses like traffic violations.
An organization that is responsible for some of the most violent attacks on migrants, has told Arpaio, he has gone too far. And his response? That he will stop at nothing to clear Arizona of all illegals.
""You know what? They can take away anything they want. I'm still the elected sheriff," Sheriff Arpaio told Fox News' Glenn Beck this week. "I'm still going to enforce the state laws and I'm going to enforce the federal laws."
via CSM.
Uh, Joe…you can't claim to uphold the law and then try and enforce it illegally.
Take action against Joe Arpaio. Stop this rogue sheriff!