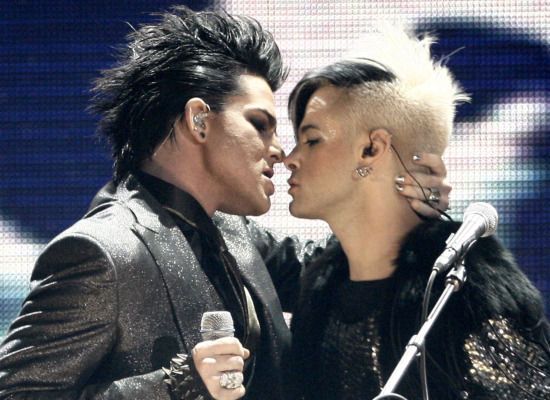 So you may have heard Adam Lambert performed at the American Music Awards on Sunday (the video has been removed from YouTube). And then Good Morning America canceled his appearance on the show scheduled for this morning. Why?

"Given Adam Lambert's controversial live performance on the AMAs, we were concerned about airing a similar concert so early in the morning," a spokesperson for the network said.
Because Adam Lambert doesn't understand the difference between 11 at night and hour I don't want to be awake in the morning? The performance was apparently "controversial" because of some (very theatrically) simulated oral sex and a same sex kiss. Hasn't Janet Jackson incorporated simulated oral sex into her performances for years? Didn't Madonna, Britney Spears, and Christina Aguilera already do that same sex kiss thing? Bondage-themed performances seem old hat at awards shows (except, hmm, they are usually headlined by female performers). Seriously, what's the big deal?
Oh right. Adam Lambert's male. And gay (not just for pretend!).

In patriarchal culture we assume a (straight cis) male gaze. The Madonna/Britney kiss is not processed as a threat to straight male supremacy because it dovetails nicely with acceptable straight male desire. Women are seen as objects of male desire, and therefore the culturally acceptable object of sexual desire, period. So a same sex kiss between women is fine – maybe a little "controversial," but in a good way. Especially if the women kissing are perceived as straight and cisgender – Britney may have kissed a girl and liked it, but it was understood mostly as an act. After all, the kiss is more about male desire than the desire of the women actually involved. I'm sure there was some outrage over the Madonna performance, but even Rush Limbaugh focused his criticism on how Al Qaeda, which he presents as representing an inferior culture, would react to the kiss. I remember most of the reaction being more like ZOMG MADONNA AND BRITNEY KISSING SO HOT. Some folks in the media called the kiss a publicity stunt, but this view recognizes that a same sex kiss between women gets positive attention. The move seemed to help Britney's career, and was read as Madonna recognizing her as the queen of pop's successor (seriously Madonna, you couldn't wait for Beyoncé?).
Adam Lambert's performance, on the other hand, is seen as a threat, enough to have an appearance canceled on him. If audiences admitted they thought Adam Lambert leading a guy around on a leash, getting fake oral sex from a guy, and kissing a guy was hot it would call into question male supremacy as reinforced through heterosexuality. The number positioned men as the objects of male sexual desire, and men objectifying men calls the most simplistic understanding of gender hierarchy into question. I mean, if straight male viewers didn't let homophobia dictate their reactions, if they actually let themselves enjoy the performance that might make them *gasp* gay! It would at least complicate their understanding of desire. Plus the glam-inspired performance had a male presenting but femmed up Lambert dominating strong, muscular men. And we could never accept femme as empowering, especially for a dude person!
The view of this performance as controversial in a bad or icky way is down to a very traditional form of sexism, in which women can be objectified for a mainstream audience but men can only be objects of desire if it's in a clearly heterosexual situation (and usually one that reinforces gender norms and power dynamics – Twilight, for obvious example). When folks react negatively to this performance it's clear something got to them. Hey male gaze, your arousal is showing.
Related:
Feministing Community blogger erin-tc points out that the double standard regarding male and female displays of homosexuality, which Adam Lambert called out during an interview on the CBS Morning Show today, was repeated in that show's coverage.