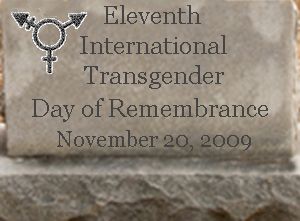 Today is the 11th annual Transgender Day of Remembrance. This day was created as a time to grieve trans and gender non-conforming people killed over the past year because of fear and hatred. It also serves as a time to raise awareness about violence against trans folks. The event was started by Gwendolyn Ann Smith following the murder of Rita Hester on November 28, 1998. Every year since the day's founding vigils and memorial events have been held in the US and increasingly all over the world.
This year the TGEU Trans Murder Monitoring project TDOR 2009 update has collected information about over 160 people killed because of other people's violent reaction to their trans presentation or identity. These numbers represent only those people we know about. We don't know how many trans folks were actually murdered this year – our identities are so rarely recognized and there is still so little awareness about trans issues and the violence trans folks face that it is safe to say many murders of trans folks went unreported.
Finding accurate information to identify murder victims as trans or killed because of their gender presentation is a consistent challenge. Just this week the brutal murder of Jorge Steven Lopez Mercado was reported as that of a "gay teen" with male pronouns used when referring to Lopez Mercado. There has been very little coverage of the fact that Lopez Mercado was a sex worker with a female presentation. Murder suspect Juan antonio Martinez Matos said he thought Lopez Mercado was female but then "realized that the teenager was actually male."
I don't know how Lopez Mercado identified, but Martinez Matos' statement tells us that they didn't conform to his strict understanding of gender: Martinez Matoz thought Lopez Mercado was female and then changed his opinion, the reason given for the murder. So Lopez Mercado's name has been added to the list of those we remember.
Many of those we have mourned over the years originally had their murders reported as the killing of a gay male. For most we still don't know how they identified. But Lopez Mercado's murder reflects those of too many others killed when presenting a gender other than that assigned to them at birth. Some may not have identified as trans but all were killed because of hatred directed towards those who break the strict rules of the compulsory gender binary. They were killed because they did not conform to what someone else thought their gender should be.
The media's consistent failure to accurately identify trans folks reflects the erasure of and refusal to recognize our identities, lived experiences, and even our very existence. Information that identifies a murder victim as the target of anti-trans violence is often presented in the same way Martinez Matos' story has been reported: the murderer thought the victim was a woman and killed them when they realized they were actually male and panicked. This narrative erases trans identities, legitimizes perceived physical sex over gender presentation, and paints trans folks as desceptive and the murderer as tricked, suggesting possible justification for murder. Media narratives end up contributing to the culture of violence and hatred targeted towards trans folks by legitimizing this "trans panic" narrative that gives the responsibility for explaining the murder victim's identity to the very person who killed them.

Based on the murders we know about traditional sexism plays a huge role in who is killed: most people on the list each year had a feminine gender presentation. Other intersections of oppression seem to increase the likelihood of being targeted by anti-trans violence as well. Most of the people on the list are black or Latin@. And many were sex workers, a job that is often the only option for trans folks facing employment discrimination, rejection by family and friends, and high drop out rates from school because of harassment.
As a trans person I know I am a potential target of violence. However, as a person with white privilege not engaging in potentially dangerous work to survive I know I am less at risk than many other trans folks. This certainly gives me pause on Trans Day of Remembrance. I am lucky enough to have access to a pretty big platform when I want to raise awareness about the trans-related issues I care and know most about. Most of the people killed never had the opportunity to share their stories in such a public way.
I share something with everyone who was killed, but there are also major differences between my life experiences and those of most of the people we are remembering. I raise this point because I often feel a degree of appropriation in Trans Day of Remembrance. Many people are entering this day remembering lost friends and loved ones, people with whom they share life experience. But even many trans folks like myself have a very different life story from those killed. While I feel a strong personal connection to this day I also know the stories are not my own. I can mourn but also recognize important power differentials that make other trans folks more likely targets of violence. We must avoid using the stories of those killed to advance consciousness raising projects and a political agenda that is about the needs of trans folks with more relative power and privilege. Instead, we need to be continually working to build a politics that centers the voices and needs of those who are most vulnerable, even within already marginalized populations.
This year there are Transgender Day of Remembrance events occurring in over 120 locations. A list of events can be found here, though there may be an event at a city near you that is not listed so I recommend searching for "Transgender Day of Remembrance" and the nearest city if you would like to participate in a vigil or memorial.