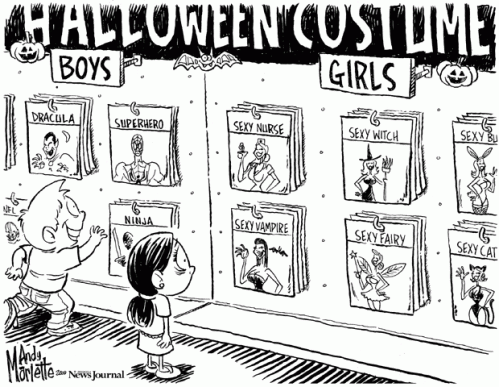 Image via Sociological Images
Page at the Bitch blog argues that Halloween queers us all. And a commenter at Sociological Images observes that grown women dress as sexualized young girls, and young girls dress as sexualized grown women.
Esperanza is the country's first nonprofit dedicated to eradicating sexual assault and harassment of female farm workers.
On women combat veterans and PTSD: "Indeed, at home, after completing important jobs in war, women with the disorder often smack up against old-fashioned ignorance: male veterans and friends who do not recognize them as "real soldiers"; husbands who have little patience with their avoidance of intimacy; and a society that expects them to be feminine nurturers, not the nurtured."
CNN bumped a story about ten missing black women to cover the disappearance of on non-black woman.
Bad-ass woman alert: Lan Yin Tsai, 84, bikes 150 miles (in a straight shot) for multiple sclerosis research every year
Recommendations for achieving global reproductive justice.
A high-school teacher in Illinois was suspended for having his students read a book about homosexuality in the animal kingdom.
A compilation of critiques of hate-crimes legislation.
KRS-ONE says hip-hop needs more women.

An early-childhood lesson in "yes means yes."
If elected in Houston, Annise Parker will be the first openly gay woman to be mayor of a major American city.
At DePaul University say women professors were disproportionately denied tenure.
Latoya calls out the Jolie-Pitt hair police. (Tami and Shani-O have more.)
There has been a major increase in TV portrayals of violence against women.
Lambda Legal has filed a complaint on behalf of a teenage trans girl who was physically attacked by other residents at Philadelphia's Youth Study Center and verbally abused by staff every day for almost a year and a half.
Wow, Elizabeth Hasselbeck is annoying.
Dodai officially declares blackface a fashion trend. And calls bullshit.
The meaning of speculation about the "real" Michelle Obama.
Shakesville has an update on the 15-year-old who was gang-raped at her homecoming dance. (And Broadsheet discusses the disgusting victim-blaming going on here.)
Sarah MacLachlan is bringing back Lilith Fair. (Amanda isn't into it.)
A great post from Black Scientist on whiteness as a default in normative culture.
Why war is anti-LGBTQ.
Michelle Triola Martin, whose landmark lawsuit established a precedent for alimony settlements for unmarried partners, died on Friday.
I join Veronica in saying good riddance to Breast Cancer Awareness month!
What have you all been reading/writing this week?