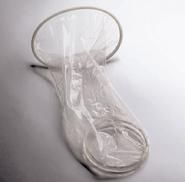 Back in March, we mentioned that the FDA had recently approved a new female condom (FC) for distribution in the U.S.
Well folks, that new female condom has officially hit U.S. markets, and is now available for our all-American consumption. The FC2 is made of a new, thinner, material, is less likely to squeak during use, and is about 30% cheaper than the original FC.
My colleague Audacia Ray has a post up on Akimbo about why this news marks exciting progress for US women's access to safer sex materials.
Now, I know that the FC often gets a bad rap. Previous commenters have touched on some of the many criticisms it often faces- it's not readily available, it's too expensive, it squeaks, it looks funny, the materials' unfamiliar, it's uncomfortable, it's unnatural, it's inconvenient, it's not effective enough, etc. And part of this criticism is understandable because the FC is a relatively new form of contraception and- let's face it- not many of us use FCs on a regular basis, or even know someone who does. How many of us have even seen an FC for sale in a drugstore? Or seen women carrying around FCs in their wallets the way men often do with the male condom?

But Audacia also points out- and I agree- that much of the criticism surrounding female condom usage in the US mimics the criticism faced by most forms of contraception, at one point or another in their product history. When Margaret Sanger first introduced the pill, she faced all kinds of haters. Her first birth control clinic was shut down by a police raid. And we all know how successfully that whole birth control pill thing turned out. So it kinda makes you wonder- is it the female condom itself that's drawing criticism, or is it the idea of a barrier method that's actually conducive to increased female agency surrounding sex?
This might be one (of oh-so-many) cases in which the US is just not that culturally progressive when it comes to women's health and rights. Much of the FC opposition is actually quite particular to the US; as we explained back in March a lot of the FC criticism is reduced or nonexistent in an international context. My colleague Jen Wilen, for example, reports that in rural, geographically isolated areas of Cameroun, the demand for FCs is so pressing that traditional healers, mostly older men, have trekked through the jungle for days to distribute them to their village women. And even though we've gone about 15 years here in the US without any new FC product releases, condom companies are constantly working on new FC designs in other countries. You can check out some pictures of different kinds of female condoms not available yet in the US on the IWHC Flickr photostream. I've never even seen a picture of most of these before, let alone caught them perched on a shelf alongside the Trojans in a US drugstore.
Which leads me back home. What have folks' experiences been with these? Now that they're available in the US, are you eager to run out and scoop yourself some FC2′s? For those who use FCs, do you find that they help reduce the need to negotiate condom usage with a partner?
Related Coverage: Female Condoms Actually Sort of Rock