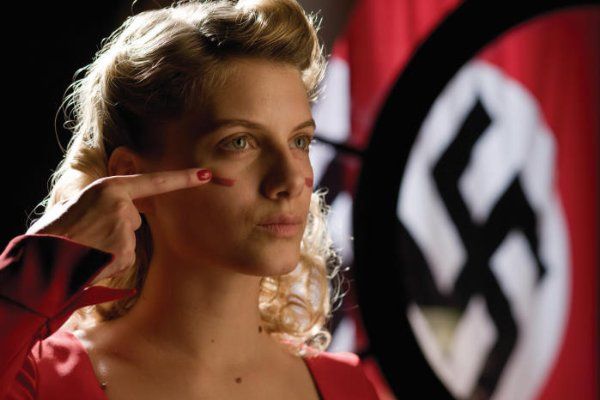 This post contains spoilers for Inglourious Basterds and The Battle of Algiers.
Have you read Amanda Marcotte's fantastic piece on Inglourious Basterds? See the movie if you haven't, then read her review. It's a great feminist perspective on a really complex, tense, and ridiculously fun movie.

This is one of those movies people will write their thesis about, so there is plenty more to discuss, including plenty more from a feminist perspective. I want to talk about women's participation in violent liberation struggles and deliberate parallels Quentin Tarantino draws between his film and The Battle of Algiers.
Tarantino makes movies about movies, quoting film history throughout his work. This approach is, I believe, most successful in Inglourious Basterds, as the plot itself focuses on the power and role of cinema, especially propaganda and war films. The Battle of Algiers is one of the most well regarded films about war, praised for its accuracy and even-handed representation of both the Algerian National Liberation Front (FLN) and French forces. The film outlines how revolutionary and counterrevolutionary war (referred to by colonizing forces as insurgency and counterinsurgency in order to delegitimize their opponents) function, and has been used as an educational tool by forces and organizers on different sides of a number of late 20th and early 21st century conflicts. I highly recommend seeing the film if you have not already, and then reading Eqbal Ahmad's essay "The Making of The Battle of Algiers" and Edward Said's "The Quest for Gillo Pontecorvo."
Tarantino literally quotes the film, using music from Ennio Morricone's masterful score. Linking (fictional) Jewish fighters during World War II with the FLN is a conceptually powerful move. Jews and Muslims are too often painted as automatic enemies, and Tarantino reminds us that both populations have been targets of state violence in the past century.
I found the linking of women's roles in revolutionary warfare particularly compelling. In one sequence in The Battle of Algiers three female FLN fighters prepare to leave the Casbah and plant bombs in the space of the French colons. They remove their burqas abayas, apply makeup, cut and dye their hair, and change into French clothes. Dressed as colons they are able to successfully pass through checkpoints out of the Casbah and plant the explosives. It is a powerful sequence that has been the subject of a lot of discussion and debate about the role of women in revolutionary struggles as well as race, religion, gender performance and presentation, and "passing."
Shosanna Dreyfus, one of central characters in Inglourious Basterds, is a Jew who has dyed her hair blond and is hiding in plain site in Nazi occupied France (advertising for the film has been misleading – the Basterds are actually secondary characters, with the focus on Shosanna and Col. Hans Landa, "The Jew Hunter"). Shosanna, like Djamila, Zohra, and Hassiba in The Battle of Algiers, must be read as part of the population in power while functioning as a revolutionary. Shosanna runs a movie theater where a major Nazi propaganda film is set to premiere and sets a plan in motion to burn down the theater, killing all the high ranking and powerful Nazis in attendance. The scene where Shosanna prepares for the premiere – putting on a dramatic red dress, applying makeup, fixing her hair – clearly references the preparation scene in The Battle of Algiers. This activates ideas about passing and using gender roles to the advantage of liberation fighters. And it connects Shosanna with a history of female revolutionaries in film.
Tarantino also gives us a new twist on female action heroes in film. When Shosanna is in action hero mode she is also in high femme drag. Even when women are represented in these sorts of movies they are almost always butch presenting in some way – short hair, little makeup, leather jackets and pants or military clothing. Shosanna uses femme gender presentation to her advantage, just as the women in the FLN used a more sexualized and European presentation to carry out their attacks. Both scenes mirror scenes in other movies where male soldiers or action heroes prepare for battle, and both put a decidedly different and gendered spin on these moments. In both cases the women are subjugating their own identities, walking in the world as their enemies, for their causes. They are playing a particularly gendered role in violent struggle, using their social position as women and the position of women in the group they are fighting to their advantage.