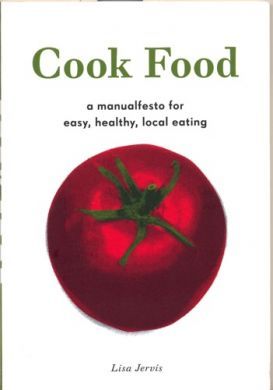 Given my recent interests in food politics, I was psyched to see this new book from Lisa Jervis, of former Bitch Magazine fame. Cook Food: A Manualfest for Easy, Healthy, Local Eating is a quick and dirty guide to the basics of cooking a plant-based local diet.
It's a quick read and the second half of the book consists of recipes. I haven't tried any yet but I look forward to it! The first half of the book is part politics and part cooking primer. Everything from what tools you need in your kitchen to what spices you should have in your rack. Amanda over at Pandagon reviewed the book when it first came out, and here is what she had to say:
I like cooking, but breezing through the short, incredibly easy-to-understand chapter "tips and techniques" made me realize how much I didn't know that's actually pretty simple, like how to use salt while cooking. And even for people that are hip to things that I just never picked up on like that, I think this book is really useful because it teaches you, in the space of about 15 minutes worth of reading, how to cook vegetables, which a lot of people don't understand. Don't fear the greens! You can cook them so they'll be edible. Grains also intimidate a lot of people, but after reading Jervis, you'll realize it's not that scary. And tofu! It wasn't until over the Christmas holiday that another vegetarian friend showed me the secret to making good tofu (drain it), but if I'd read this book sooner, I would already have it down. Plus, her technique is easier than the one my friend showed me. Once you eat really well-prepared tofu, I promise you'll never crinkle your nose and say "yuck, tofu" again. To make it all that much easier on you, she also has a chapter on what to stock in your kitchen, both in tools and food to just have on hand. The tools section is really helpful for people who don't know where to start, and Jervis makes sure to explain what you can feel relatively at ease buying for nothing at thrift stores, and what you probably need to spend money on, or ask your mom to buy you for your birthday.
It's a great deal at only $10 a copy. You can learn more about the book at PM Press. Lisa also has a blog for the book, which you can check out here.