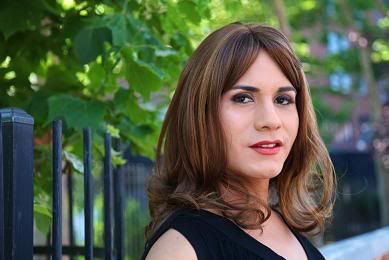 On June 19 — that's right, during Pride Month — Leslie Moya (pictured above), a transgender woman from Queens, was walking home from a nightclub when two men assaulted her and brutally beat her with a belt buckle.
They stopped only when a passing motorist threatened to call the police. Throughout the attack, Leslie's assailants called her a "faggot" in Spanish. The attack left Leslie with multiple injuries, including bruises all over her body, and stitches in her scalp. Police called to the scene found Leslie nearly naked and bleeding on the sidewalk. They also recovered a belt buckle from the assailants that was covered in blood.
Despite the fact that Mora was clearly targeted for her (perceived) sexual orientation, the Queens District Attorney is refusing to investigate (PDF) the attack as a hate crime.
If you're a New York State resident, now's a good time to pressure the state Senate to pass the pending transgender hate-crimes legislation, the Gender Expression Non-Discrimination Act (GENDA). (It has passed the Assembly and is awaiting Senate action.)
Click here for a list of states with trans-inclusive hate crimes laws. And also check out an alternate view on hate-crimes laws, from the Sylvia Rivera Law Project.