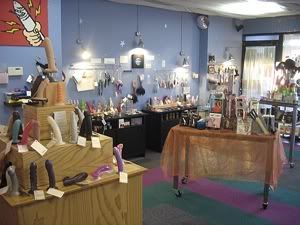 This weekend I was excited to be in Chicago because I've been wanting to check out the feminist sex shop so many of you raved about: Early to Bed.
Early to Bed was founded in 2001 by owner Searah, who was frustrated with the traditional sex shop options.
I made my way to ETB via public transportation, excited to see that it was super accessible. The store front is discreet enough that I walked right by it on the first shot, but not totally hidden. The glass store front sports a large decal/painting of a blue bed with the tagline "intimate apparel."
The stock is pretty standard feminist sex shop fare. Lube, condoms, some gag gifts (but not too many and definitely NO penis lollypops or other annoying bachlorette party gifts), dildos, vibrators, anal toys, harnesses, videos, books and some BDSM gear.
Things that stood out for me about Early to Bed:
Comfortable and welcoming seating area in the back that my friend and I hung out at reading for a while. Didn't feel rushed or pressured to buy anything.
Great reference books meant for pursuing, in addition to a few resources from E2B: a Q&A book with questions asked by customers and answered by the owner as well as a book of personal sex toy reviews.
Great selection of harnesses (all shapes, sizes, materials and price ranges) as well as a unusually large selection of pretty BDSM gear with studded collars, hand restraints etc.
Very reasonably priced. Toys that I have seen elsewhere for almost twice as much were surprisingly low priced. Not sure how they do it but it's great to see, especially since these toys can be very expensive!
Great signage throughout the store. My personal favorite: "Please touch, fondle and turn on the toys"
Overall it was a great store and I recommend checking it out. They also have a website where you can buy most of their products. They also have a dedicated youtube channel, with short videos about sex and sexuality.