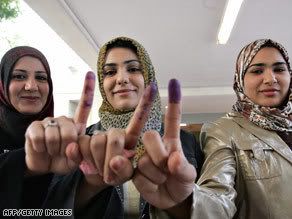 In an effort for women to regain footing in Iraqi government and decision-making, it has become a requirement for every 3rd elected seat in Iraq to be held by a woman. As a result, 4000 women will be running in this year's election.
Nibras al-Mamuri is a secular female candidate who argues that fundamentalists have taken over the country. She says it was the 2005 elections that brought them into power and tarnished Islam's image in Iraq.
Al-Mamuri, who is running for the Baghdad provincial council, says it's time for a change.
As we have discussed before and as the article concludes, the US-led invasion of Iraq has made conditions for women worse.
In recent years, Iraqi women have been targeted by extremists for a variety of reasons — from not covering their hair to entering the political arena.
Under Hussein, Iraq was one of the more secular Arab countries, but the 2003 U.S. invasion unleashed extremist militias. Now, many activists say women have been forced back to the Dark Ages, forced to be submissive, anonymous and fully veiled.
Al-Mamuri said she believes Saturday's vote can help women improve their position in society.
via CNN.
Related:
The Military's disingenuous talking points on women's rights.