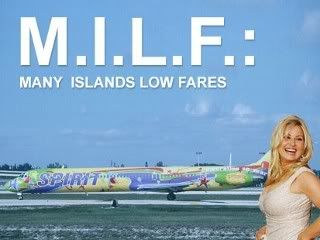 What is up with all the sexist airlines?
While Southwest Airlines prefer to harass its customers, Spirit Air opts to feature sexist ads and debase their flight attendants. The image provided is one of their many heinous marketing ads they've been criticized for in the past – M.I.L.F. conveniently means "Many Islands Low Fares," as well as an ad that says, "We're proud of our DDs" (which stands for "deep discounts"). Their latest plan? To force their flight attendants to wear aprons with alcohol promotions on them.
Luckily, the Flight Attendants-CWA union is taking some action on both offenses. President Pat Friend, has been sending letters to CEO Ben Baldanza:
I feel as though I have entered a time warp and am reliving the battles for respect and justice for women that we fought 40 years ago. Several promotional fare ads…are demeaning not to just the hardworking flight attendants at Spirit Airlines but to all of America's professional flight attendants.
…
Flight attendants have a statutory obligation to enforce Federal Aviation Administration regulations regarding intoxicated passengers. In-flight aprons that prominently display a logo from an alcoholic beverage company sends the wrong signal to passengers and diminishes the ability of Spirit flight attendants to enforce vital safety and security regulations and procedures onboard.
Even AFL-CIO Executive Vice President Arlene Holt Baker is calling on folks to call Spirit out on this bullshit, "With the recent focus on the heroic actions of the US Air pilot and crew whose experience and expertise saved the lives of the passengers, I think it is most appropriate that we speak out on this. Airline safety should certainly sell over sexual innuendos."
Indeed. Email their CEO and let them know what you think.
h/t to Tula!