Ann mentioned this in her last PETA WTF? post, but I decided it needed more attention.
Just when you think PETA couldn't get any worse, they take their ad campaigns to another level.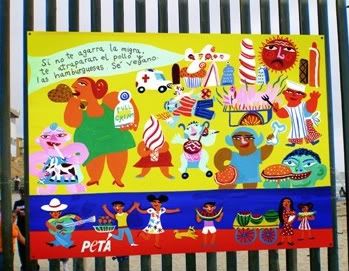 Apparently PETA is petitioning to buy ad space on the fences that are being constructed along the US/Mexico border to display these racist and offensive ads. From PETA:
People for the Ethical Treatment of Animals plans today to announce an unusual marketing pitch to the U.S. government: Rent us space on the fence for billboards warning illegal border crossers there is more to fear than the Border Patrol.
The billboards [pictured], in English and Spanish, would offer the caution: "If the Border Patrol Doesn't Get You, the Chicken and Burgers Will — Go Vegan."
"We think that Mexicans and other immigrants should be warned if they cross into the U.S. they are putting their health at risk by leaving behind a healthier, staple diet of corn tortillas, beans, rice, fruits and vegetables," said Lindsay Rajt, assistant manager of PETA's vegan campaigns.
We already know they could use some help when it comes to objectifying women. But apparently they also need a serious race and class analysis check over at PETA. Stat. Without even getting into what's fucked up about the message they are trying to send about meat consumption and mexican vs american culture, let's begin with the images on the ad, which are borderline racist and definitely offensive to me. Then how about supporting the screwed up US immigration policy by BUYING ad space on these fences?
News flash PETA: promoting animal rights through misogyny, racism and the objectification of women is NOT the way to go.
Thanks to Cesarina for the link