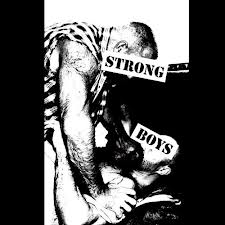 Joseph Osmundson, a scientist and activist based in New York City, has penned an important and deeply personal piece for the Feminist Wire discussing the ways in which "working-class white men live their masculinities". After sharing a story about trying out for the middle school basketball team in 7th grade and then crying when he saw his name on the cut list, he writes:
"These were not things that boys back home were supposed to do, and yes, I took shit for it later that day.  Boys weren't supposed to cry (men are strong, not weak), we're not supposed to need support from anyone, in particular not our mothers (men are providers, supporters, not those in need of support).  And on top of all of that, I baked, I sewed (men are supposed to work, not concern themselves with matters of the home), I played sissy upper-class sports (real men play football, basketball, baseball), I worked really hard at school (real men use their bodies, not their minds), and I cared about it all enough to cry in public.

I have been running away from white working-class masculinities for so long because even before I could tell you what they were, I knew they didn't fit my person.  It was obvious to me and obvious to those around me. Life for those of us who don't fit neatly into the social structures defined for us can be a gauntlet."
He also writes according to a less conventionally feminist narrative about the ways in which social norms around masculinity affected the father of a friend of his, who he describes as a "man's man…a real dude, in all the normative senses," when he lost his job:
"Losing his job meant losing his role in his family, in his society, in his country. If a man is by definition a worker, provider, protector, what does he become when he fails to provide or protect?  I watched my friend's father become consumed by his apparent failures.  I watched a lot of men struggle to redefine themselves as logging and farming and building things with their hands become no longer profitable.

Because when masculinity gets conflated with personhood, to challenge masculinity is to challenge humanity.  No wonder so many men respond so violently to those that dare question their manhood.  No wonder so many men respond with such despair when economic systems violate their ability to provide. No wonder so many men who feel dispossessed respond with fists or guns or acts of sexual violence or words that bludgeon and bruise.

It is obvious, I think, that little pre-queer boys might be trapped in the jacket of masculinity and want to escape.  It is less obvious that this same jacket has invisibly wrapped itself around men everywhere.  Men who expect to be able to protect and provide, when systems are set up so that working class people are vulnerable and exposed."
Inspired by Osmundson's brave and insightful candor, this week's Wednesday weigh-in deals with manliness and masculinities:
What has your relationship with masculinity been? How have you seen men in your own family/community struggle with what it means to "be a man"? And how has it influenced you?