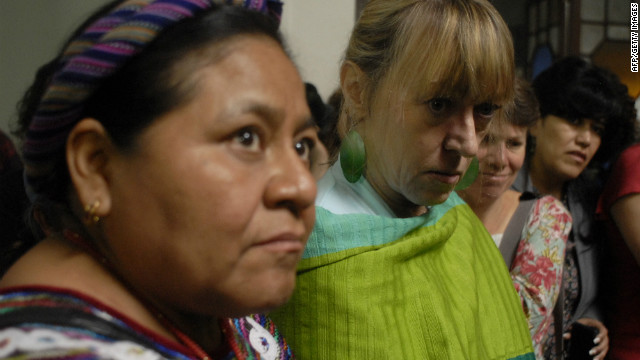 Jody Williams and Rigoberta Menchu. Pic via CNN.
Violence against women in Latin America is on the rise–and it's partly thanks to the US's ineffective drug policies. A delegation of women, led by Nobel Laureates Jody Williams and Rigoberta Menchu, released a report yesterday on the horrifying levels of gender-based violence in Mexico, Honduras, and Guatemala.
Over the past decade, there's been a 257 percent increase in femicide in Honduras, a 40 percent increase in Mexico, and a more than 30 percent increase in Guatemala. And in the last couple years, 24 women human rights defenders have been assassinated in those countries. (Recall Agnes Torres Sulca's murder just a couple months ago.)
The violence is being perpetrated by both organized crime and the government security forces fighting it. And increased militarization–supported by US military and police aid to the region to fight drug cartels–is making matters worse. The report summary states:
One of the most disturbing findings was that the governments, while formally recognizing the problem, are doing little in practice to abate the violence, particularly in cases that involve government forces. In some cases, governments are directly implicated in the violence. The mounting crimes of extreme violence and targeted repression against women remain largely uninvestigated, unsolved and unpunished, due to fragile state institutions, deep flaws in the political and justice systems of these countries and a lack of political will to reform policies and institutions that implicitly condone them.

Increasing militarization and police repression under the guise of the war on drugs has led to more violence overall and more frequent attacks on women, who lead efforts to protect their communities against threats to their lands and natural resources, and protest military and police abuses.
The report goes on to note that women in the region are calling on the U.S. to stop funding abusive security forces, and instead give more aid to "social programs that strengthen basic human rights and democracy." Hopefully their voices will be heard. But even after four unarmed people, including two pregnant women, were killed in an American-led drug raid in Honduras recently, the US doesn't seem very willing to shift its priorities.