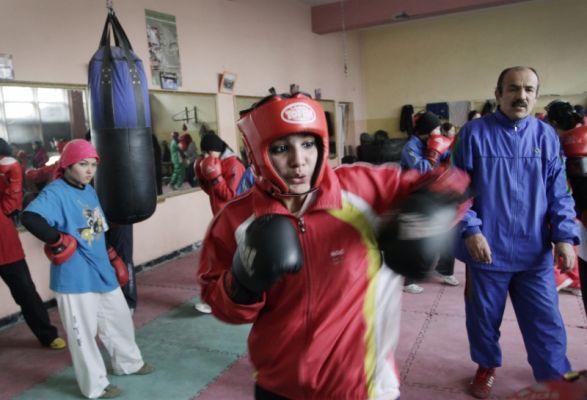 I love it when young women confound society's expectations. I love it when they do it by being bold and bad-ass. I especially love it when they are 17 years old.
Afghan boxer (yes, you read that correctly, boxer) Sadaf Rahimi will be representing Afghanistan in the women's boxing competition at the London Olympics this July. Not only will this be the first time that women's boxing will be featured at the Olympics, she will be the only woman from Afghanistan at the event. In the Summer games of 2004 Robina Muqimyar and Friba Rezayee became the first women to represent Afghanistan at the Olympics, making Rahimi the third woman in history to represent Afghanistan at the Olympics. She speaks about the pressure she faces:
"When we participate in the outside competitions, there is pressure on us, but I will try to show that an Afghan girl can enter the ring and achieve a position for Afghanistan."
Under Taliban rule, women were not allowed to participate in sports. But let's be careful here: Rahimi's participation in the Olympics does not mean that the fight for equal access is won in Afghanistan. She has to cover her knees when she fights by wearing tights under her boxing uniform – and as HuffPo reports, women athletes don't have the same access to training facilities in Afghanistan – she trains in a sports stadium, formerly used by the Taliban to stage executions, which doesn't have a boxing ring.
Sadaf's story, and her courage at the age of 17 shows some important progress for women in Afghanistan, it shows that while the women there have a long road ahead, this is an important marker – that doesn't allow us to categorize Afghan women as singularly oppressed and subjugated. This young woman is redefining gender norms, and making the world take notice of the ways that Afghan women are blazing their own trails.  And  so as to state the obvious, boxing is a particularly fierce way to arrive onto the scene. Swoon.