Since many of us spent yesterday celebrating a game that women aren't really allowed to play, it seems fitting to spend a moments today celebrating a woman athlete.
And this woman is a total badass. She doesn't throw or catch or tackle, but she does dive 60 metres (that's about 197 feet) down into the ocean with no breathing assistance. The little-known sport is called free-diving, and recently, off the coast of Hawaii, Christina Saenz de Santamaria set two new Australian free-diving records.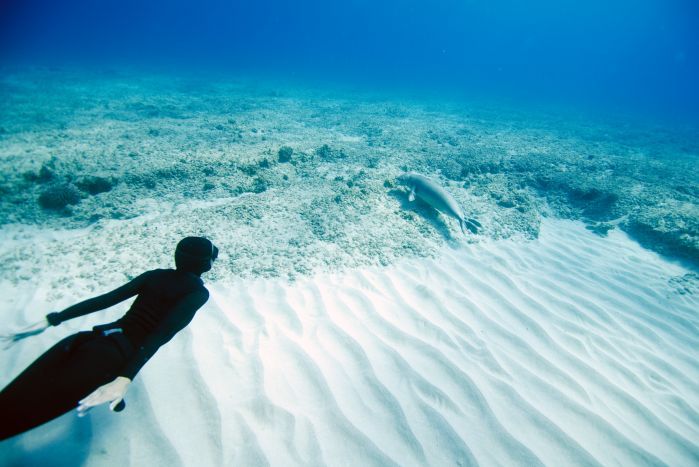 If diving headfirst straight down into the ocean alone and holding your breath for over two minutes sounds dangerous, that's because it is. But in an interview with Australia's ABC News, Saenz de Santamaria explained that she has trained herself to overcome the fear and to stay relaxed on the ocean floor:
There is a natural urge that you have of course – a survival instinct, it's not quite natural for us to be 60 metres down holding our breath, so when you start free-diving you do have a natural instinct of wanting to race to the surface.
However you train your mind mentally, and you train your body physically to not have this instinct to want to rush to the surface.
But definitely down at 60 metres you feel deep, that's for sure. You do feel like you're 60 metres deep and sometimes the surface feels like forever to reach, and you have to keep on repeating to yourself a lot of positive thoughts so that you can remain nice and relaxed.
And, once you master it, Saenz de Santamaria says, free-diving can feel incredible. "It's actually very meditative," she says. "It's an incredible experience when you're freefalling from say 35 or 40 metres down to 60 metres you're without gravity- it's almost like flying."
Oh, and also, you get to swim with seals and turtles and dolphins. While defying gravity and your natural survival instinct. What a badass.
Check out more photos of Saenz de Santamaria diving here.