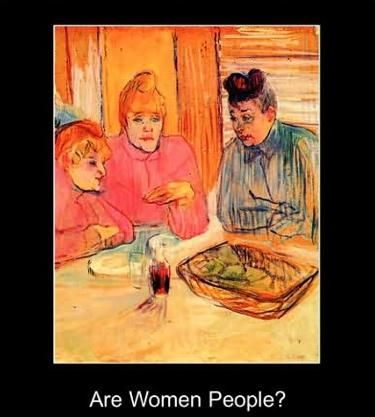 Today is the 39th anniversary of Roe v. Wade. Here's a reminder of what life was like before.
Love these poems mocking anti-suffragists by Alice Duer Miller.
Speaking of gender in comedy, here are some tips for how to write like a funny woman from Elissa Bassist.
After one of Newt's ex-wives says he asked for an open marriage (after he cheated), some folks discuss infidelity and open marriage.
Sugar is coming out. "Virginia Woolf famously said 'anonymous was a woman,' but I never intended to be one of those women. I owe them too much to be."
Catch snippets of Sheila Heti's interview with Joan Didion at The Believer.
"It is far easier to talk about the tragedy of LGBTQ youth suicide than it is to find ways to comprehend and address the complexity of their lives and identities."
Dana Milbank thinks us ladies who care so much about our reproductive rights need to chillax.
So I guess we should all be watching Dowton Abbey, huh?
The Tucson, Arizona school district confiscated Mexican-American studies books–and then punished students who protested.
Simon Doonan wonders, "Could small breasts make a comeback?" Kate Harding counters, "Could small cocks make a comeback?"
A retrospective of the many shades of Beyonce.
Good news: More Americans practicing safer sex. Bad news: A third of teen mothers didn't use birth control because they didn't think they could get pregnant.
Jennifer Weiner analyzes the gender bias in the New York Times book reviews last year.
Tami says 30 Rock's decision to address Tracy Morgan's real-life homophobic comments was a bad one.
What have you been reading/writing/watching/learning this week?