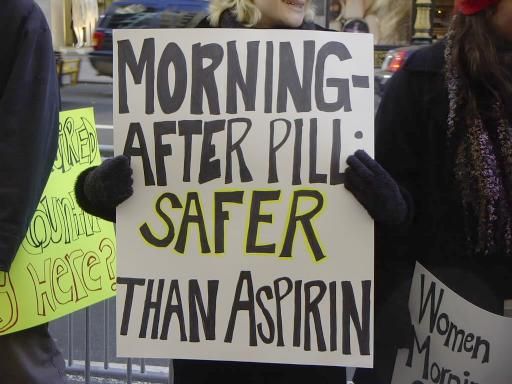 This Thursday, New York Women's Liberation has organized an action in NYC to protest the Health & Human Services (HHS) decision to restrict morning-after pill (emergency contraception or EC) access.
You'll remember that  Kathleen Sebelius and the administration killed our hopes that the decade-long political debacle around EC was finally coming to a close by refusing to allow EC to be available over-the-counter. Read her statement here, and the FDA's unprecedented statement opposing the decision here. Since then, feminists and women's health advocates decried the decision as putting politics over science and health. The pill is currently only available without a doctor's prescription to women ages 17 and older, and is kept "behind-the-counter" at pharmacies.
Now it's time to do something about it. Those in the New York area can voice their disapproval by joining a protest organized by National Women's Liberation and #OWS in manhattan at 26 Federal Plaza, on Broadway at Worth St this Thursday January 12th at 1pm.
According to the press release, women will testify from personal experience about why immediate and unrestricted access to this safe form of birth control is crucial to our lives:
Women directly impacted by this decision will speak about their experiences trying to access the Morning-After Pill …For example, according to NWL member Erin Mahoney, "Once, a partner and I needed the morning-after pill in the middle of the night, I sent him to one of the only 24-hour pharmacies in the city. The pharmacist refused to dispense the pill, saying that I needed to be there to show my identification (ID) and prove that I was over 17. After sending a letter of complaint I received an apology stating that the individual pharmacist did not understand the rules."
The event is sponsored by National Women's Liberation, which claims to be at the forefront of the grassroots fight for unrestricted access to EC, claiming to have a hand in a huge victory in 2006 when the FDA decided to eliminate the prescription requirement for women ages 18 and up, and another in 2009 when Tummino v. Hamburg ordered the FDA to also eliminate the prescription requirement for women aged 17.