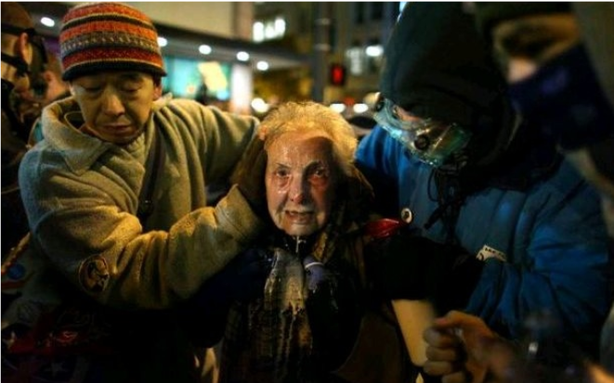 Dorli Rainey, the 84-year-old activist who was pepper sprayed at Occupy Seattle, remembers that in "the women's movement there were signs which said: 'Screw us and we multiply.'" (Image credit: Joshua Trujillo / Seattle Post-Intelligencer)
"Breaking Dawn is where the Twilight series goes straight-up cuckoopants."
Amanda Hess profiles boy-next-door porn star James Deen and wonders when the industry will start making porn for women.
Muslimah Media Watch reviews TLC's new series All-American Muslim.
Awesome: Sarah Vowell is The Daily Show's new Senior Historical Context Correspondent.
Angela Davis says that the most important question facing the Occupy movement is how we can "come together in a unity that is not simplistic and oppressive, but complex and emancipatory."
Some sad charts on child poverty.
Spencer Ackerman asks, "Is it really not possible to grapple with this woman's ideas because she's wearing pearls? Really?"
Andrea Plaid explains why she was disappointed in both Black in America 4 and Miss Representation.
Mona Eltahawy says that Aliaa Mahdy, a 20-year-old Egyptian blogger who posted a nude photograph of herself, is "the Molotov cocktail thrown at the Mubaraks in our heads – the dictators of our mind."
The New York Times explores what led to the defeat of Mississippi's Personhood amendment, while Georgia gears up for its own Personhood push.
In an interview with MORE, Michele Bachmann discussed how her miscarriage made her more anti-choice.
Followup to Chloe's recent piece on sexual abuse in gymnastics: Former Olympic coach Don Peters has been banned for life by USA Gymnastics.
Rape cases are on the rise in internal displacement camps in Somalia.
In response to Courtney's recent piece on sustainable blogging, one teenage feminist discusses Virginia Woolf, Nicki Minaj, and the importance of a room of one's own.
On the specifically anti-mother abuse bloggers who are mothers receive and why it needs to be part of the convo around online misogyny.
What have you been reading/writing/watching/learning this week?