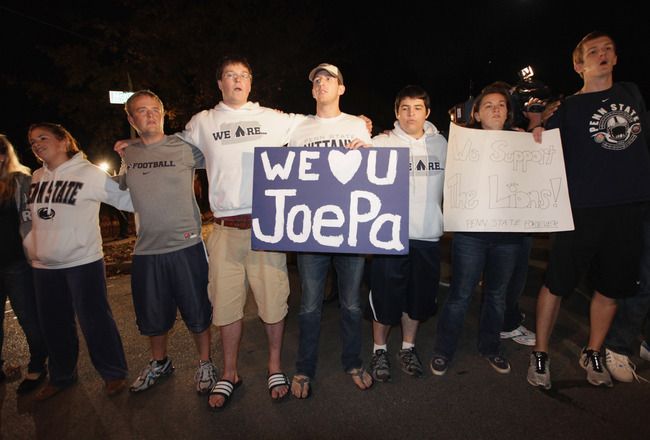 Starved for worthwhile causes for which they can take to the streets, the Youth of Today have chosen bravely, nay heroically, to take up that most honorable of riot-inciting aims: the defense and protection of an alleged enabler of serial sexual assault and child rape.
It's hard to know where to start or what to say when faced with events like these.
I could talk about the chilling effect of massive, violent, and public shows of support on the willingness of victims and survivors of sexual assault to come forward with their stories.
Or I could quote my friend and fellow member of feminist group Permanent Wave Heidi Vanderlee, who wrote last night in an incredulous email about the rioting that "football is pretty much a religion at that school, which, ironically, makes this more similar to the abuse that happens in the Catholic Church than we could even realize ."
Or, I could quote the rioters themselves, via the New York Times, without further comment:
""We got rowdy, and we got maced," Jeff Heim, 19, said rubbing his red, teary eyes. "But make no mistake, the board started this riot by firing our coach. They tarnished a legend."

"It's not fair," Mr. Muir said hurling a white ribbon. "The board is an embarrassment to our school and a disservice to the student population."
Read this entire New York Times article about the riots that occurred at Penn State last night after Joe Paterno and Penn State President Graham Spanier were fired by the Board of Trustees and try to maintain a little faith in humanity. Go ahead, give it your best shot.