Yesterday it felt like the Internet exploded when friend and fellow feminist blogger Jill Filipovic Tweeted the following:
"Just unpacked my suitcase and found this note from TSA. Guess they discovered a "personal item" in my bag. Wow."
The Tweet was accompanied by this picture depicting a handwritten note that read "Get your freak on girl".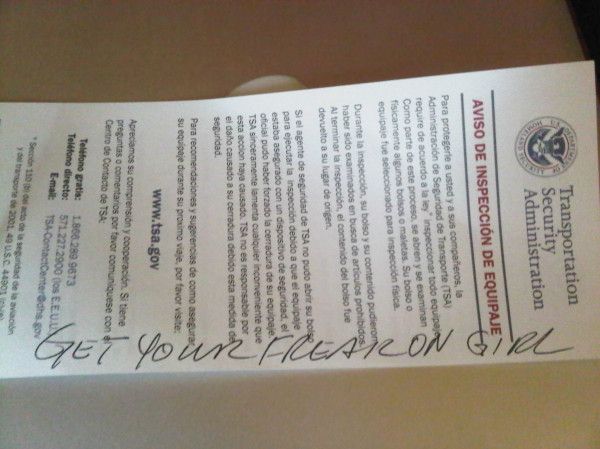 Jill is a blogger for Feministe and a longtime friend of Feministing. She wrote a post about the experience on her blog, calling the note a "total violation of privacy, wildly inappropriate and clearly not ok" but admitting that she did have a good laugh about it.
I too had something of an ambiguous reaction. It is pretty hilarious, but at the same time there's something disturbing about the TSA's (Transportation Security Administration) lack of professionalism and downright immaturity. I'll think of this little incident next time I see one of those TSA slips in my bag, and I'll definitely hesitate to pack a vibrator.
Comments on Jill's original Twitpic are representative of the wide range of opinions this elicits:
"So WRONG. Our personal items are not for TSA comment."
"A rare human moment/connection from a normally humorless agency. I like it & whoever wrote it."
"wow, that's inappropriate!"
"Might as well read, "We've just invaded your privacy. Haha. How does that feel?" Icky! Sorry."
What do you think, readers? Funny, disturbing, inappropriate, or a little bit of all three?