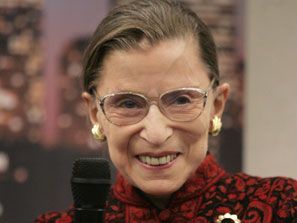 It's no secret that Feministing folks have a bit of a girl crush on Ruth Bader Ginsburg, the second female Supreme Court Justice and the first Jewish woman to serve on the court.
In addition to being a remarkable public advocate for women's rights, she's been known to speak out against attacks on women's health, and even publicly maintained a supportive and equal partnership in her marriage to her late husband.
This week, she can be found encouraging a roomful of her female colleagues in justice to speak up as well, with this simple message: "dare to disagree."
The Star Ledger reports that Ginsberg delivered her signature poise and passion during her keynote address to the National Association of Women Judges conference in Newark this weekend.
"On rare occasions, a dissent turns the court and becomes the opinion of the court…I will continue to speak out in dissent when important matters are at stake," she reportedly pledged.
It seems she practices what she preaches, as she has often sided with the dissenting opinion, including in a crucial federal abortion ban case and in the now infamous Lilly Ledbetter case which drastically undermined protections against wage discrimination until the Lilly Ledbetter Act was signed into law in 2009.