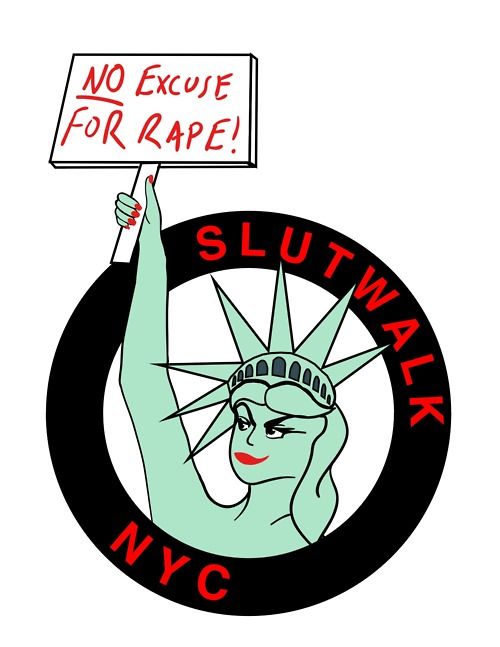 This Saturday October 1st, SlutWalk hits New York City.
I've been following the SlutWalk movement for awhile now. Back in April I had the opportunity to interview the original SlutWalk Toronto founders. I've also written previously about my involvement with some of the SlutWalk NYC organizing efforts, and my disappointment in the media coverage around SlutWalk, and hosted a rich guest post by Harsha Walia outlining some of the incredibly valid critiques of SlutWalk and describing the thought process behind her decision to march. Other members of the Feministing family have written on the topic in great detail, including much of the crew in this group chat with Rebecca Traister, and Jessica Valenti for the Washington Post.
Now, just four days away from NYC's big day, the buzz around the event is growing to a frenzied volume. Consideration of last minute logistics bleeds into continued engagement with ever-present critiques. And amidst it all — despite and in part due to the controversy, criticisms, and commentary surrounding this march– I will be in Union Square at noon on Saturday. Let me explain.
As I see it, there are many, almost infinite reasons one could choose to march in Union Square on Saturday: in protest against sexual violence; in favor of sex positivity and sexual empowerment; as a survivor of sexual assault; in protest of the systematic exclusion and dismissal of women of color from mainstream feminism or from SlutWalk itself; because you've been called a slut, or puta, or another such name, and did not like it; to reclaim the word "slut"; because you find the word "slut" abhorrent beyond reclamation; because you wish to shift focus from the actions and behaviors of victims and survivors of violence to the actions and behaviors of perpetrators; some combination of these reasons or another reason all your own.
All of these reasons are valid. All of these reasons and viewpoints should be– and I believe are– considered important and included under the "SlutWalk" banner.
I personally march because I want to end gender-based violence and because I view an intersectional analysis of violence as the only means to achieve said end.
I march because I stand in solidarity with those who have experienced sexual violence including women of color, queer people, trans folk, working class women, translocal women, men, gender non-conforming people, and others.
I march because people of color and trans women are 1.5 times more likely to experience violence than their white or cis counterparts, and 2.5 times more likely if they are both trans and a woman of color.
I march because the disproportionate levels of violence against marginalized people are in part exacerbated by their systematic exclusion from the traditional and even the "radical" movements addressing gender-based violence.
I march because I recognize many recent critiques of SlutWalk as not only valid but critically important, and I seek to engage them in earnest with an open mind and heart.
I march because I seek a SlutWalkNYC and an anti-violence movement more broadly that employs an intersectional approach to social change.
I march as an investment in a radical progressive movement that holds complexities, contradictions, and what I believe to be potential. I march in support of a growing movement that simultaneously has ties to age-old movements and represents something brand new; that is both profound and problematic; that excites me but also incites in me a deep ambivalence and weariness.
I march as an investment in the efforts of young radical progressive feminist grassroots organizers, to recognize their potentials and their failures and to show support for the laborious and inglorious process of social change.
I march in optimism towards the creation of a movement that breaks the mold and impresses and engages even those for whom skepticism and mistrust is warranted.
I march with a ball of confusion in my heart and stomach, with some pride in how far I've come and with some pain at how imperfect I am. I march because circumstances are so dire that urgent action is both necessary and terribly inadequate.
I march because there's something in the air in New York, and it feels big and exciting.
I march because I am not only in solidarity in principle, because solidarity cannot be exercised in theory.
I march because I want my friends and family to know where I stand, even the ones who disagree, even the ones who don't understand. I march because I want my aunt and my uncle and my grandmother and my cousin to find a way to be proud of me, to love me anyway, to love me even more for what I stand for and who I've become.
I march because I have the privilege to define walking under a banner of "slut" as subversive and empowering for me, a privilege that my grandmother and all her grandmothers before her couldn't choose to invoke.
I march because no matter how brave or strong I try to be, my own fear of the label "slut" has at times been big enough to cause me to betray myself.
I march because I choose creativity over critique.
I march because many organizing efforts, even great and iconic ones, to some extent feel like uncontrollably hectic and problematic failures, and the important part is whether we are listening to each other and in this together, or at each others' throats.
I march because sex negativity has been such a dominant force in my life and it's sickening to think that it will persist to my children's generation.
I march because my privilege compels me to, as does my oppression.
I march because I've experienced slut shaming and assault and gender based violence at the hands of all races and genders, because the enemy doesn't have one face or ethnicity, because there is no one "enemy", because there is only us.
Why will *you* march?
Related:
Nancy Schwartzman of The Line Campaign on why she is marching.
Four brief critiques of SlutWalk's Whiteness, Privilege, and Unexamined Power Dynamics.
(*Warning: I do NOT endorse all or even most of the content at that last link. There is some highly problematic rhetoric, including some of what I identify as slut-shaming, anti-sex-worker rhetoric as well as transphobia. I am linking because I find it to be the most thorough roundup of SlutWalk criticisms, some of which contain these problematic elements just like SlutWalk itself.)