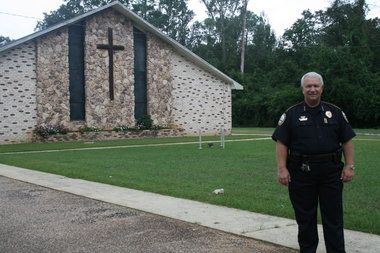 The small town Bay Minette, Alabama is giving non-violent offenders a choice: Either go to prison for your crime, or go to church every Sunday!
Church programs being used for paroles is not out of the ordinary. In the past, I've attended a church which doubles as a rehabilitation center and operates state licensed programs for recent paroles. There is nothing wrong with that. The paroles are not required to attend the church service-only meetings that are held on Saturdays, which are not religious.
Alabama, on the other hand, is requiring offenders an alternative to prison or paying a fine — attend church every week for a year and you can have your case dismissed. And the reason for the program is to save money: Allowing them to attend church as opposed to incarceration costs saves the town 75 bucks a day.
The Police Chief Mike Rowland said that "…the core of the crime problem was the erosion of family values and morals. We have children raising children and parents not instilling values in young people…You show me somebody who falls in love with Jesus, and I'll show you a person who won't be a problem to society," he told WKRG [the local news station].
The ACLU has already called the program unconstitutional, which it most certainly is. "It violates one basic tenet of the Constitution, namely that government can't force participation in religious activity," said Olivia Turner, the executive director of the ACLU of Alabama.
Making someone choose between prison and church is basically acting like the First Amendment doesn't exist, at least when it comes to individuals being forced into Christianity. The police chief claims that they have a choice to attend a mosque, but with few mosques in the area surrounding Bay Minette, it's really a false choice for many. And what about non-believers, agnostics, and atheists? They are really given no choice at all. It's either go to prison, or allow for a violation of their constitutional rights. That's unacceptable. Alabama needs a refresher in the U.S. Constitution.