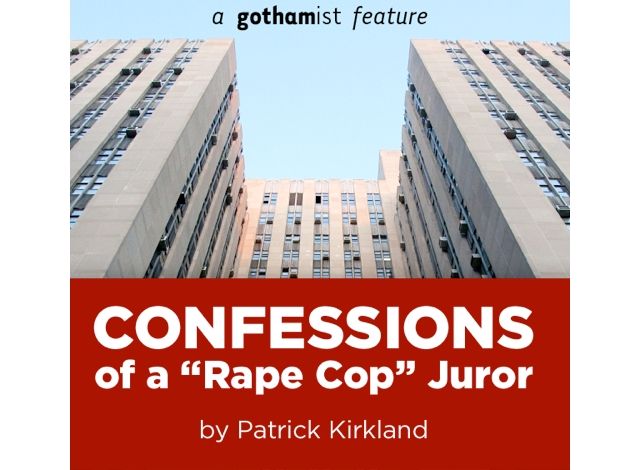 Patrick Kirkland, a juror on the NYPD "rape cop" case, is selling his story on the blog Gothamist.
It's not atypical for jurors to speak out after high-profile cases– in fact, a feminist-identified juror did just that in a Women's E-News feature back in June– but something about this excerpt strikes me as odd:
The former cop sprang from his chair and rushed toward me, and before I could step back, the stocky arms of the ex-boxer were curled around my shoulders. To my left, I saw a crowd of faces; to my right, a place setting. One knife, one fork, and one dull spoon wrapped in a white cloth napkin— not much help if he started strangling me. The arms tightened, and then the high-pitched, soft-spoken voice I recognized from the witness stand whispered, "Thank you."

My chest sank with a long exhale, and a whirlwind of high-powered suits and smiles rose from their glasses of Cabernet. They floated toward me with outstretched hands and watery eyes, the aroma of freshly baked focaccia robiolas mixing with their cologne. One floor below, diners in this Murray Hill Italian restaurant chattered away ignorant of the strange encounter at the top of the back staircase. The man hugging me was supposed to be the monster I had spent seven weeks analyzing and seven days judging. This was Kenneth Moreno, Rape Cop.

How the hell did I get here?
What do you think? Is this par for the course, or blatant opportunism at its worst? Will it have an even further chilling effect on assault survivors coming forward?
H/t Jessica Wakeman