On Tuesday, Google celebrated the birthday of Nazik al-Malaika, a wonderful female poet, by honoring her with a "Google Doodle." Al-Malaika was widely known in the Arab world. She passed away in June 2007.
Her obituary in the NY Times described her as "one of the Arab world's most famous poets" and "one of a small group of Iraqi poets who broke away from classical Arab poetry, with its rigid metric and rhyme schemes." It also illustrated how her poetry often dealt with women's issues in brave and incredibly compelling ways, quoting from "To Wash Disgrace," a poem about an honor killing: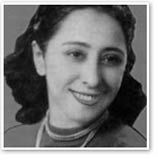 Oh mother, a rattle, tears and darkness
Blood gushed out, and the stabbed body trembled.
"Oh mother!" Heard only by the executioner
Tomorrow the dawn will come and roses will wake up
Youth and enchanted hopes will ask for her
The meadows and the flowers will answer:
She left to wash the disgrace.
The brutal executioner returns
And meets people
"Disgrace!" He wipes his knife
"We've torn it apart."
And returned virtuous with a white reputation.
As Shelby Knox has pointed out at Feministe, the number of times that Google has honored a woman in this way is appallingly low. As Shelby discovered:
"To date Google claims to have created 300 doodles for the United States and 700 internationally that honor holidays and "creativity and innovation." According to Google's design team, women lack both. Of 109 innovators, artists, revolutionaries and creators designated important or interesting enough for a doodle, only 8 have been women. It took eight full years for the Google team to find a woman worthy of the honor, which finally went to French pilot Hélène Boucher in May of 2008. Her doodle could only be viewed on the Google France homepage."
Google Doodles has also been criticized for hiding its Gay pride doodle beneath layers of search, with critics accusing Google of doing so "to avoid criticism from anti-gay groups, whose members may be less likely to search 'pride-related' terms."
Since then, Google has gone on to honor other women artists, including Frida Kahlo.