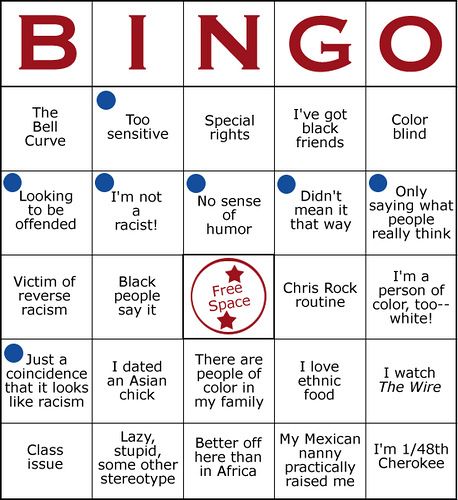 At Racialicious, Crommunist summarizes the people you meet when you write about race.
"What if you can't afford a $5 Frappuccino and yet still have genitals?" Love you, Jon Stewart.
Women in a small town in Colombia are pulling a Lysistrata to pressure the government into paving their road.
Check out Cisgender News, a site devoted to "finding the cisgender angle in the latest news stories." [Via]
So not surprised that Speaker Boehner belongs to a boys-only golf club.
"If you ARE going to insist on and commit to being a pretentious jerk and having a "Depression hobo" wedding…"
A new study suggests that teen boys who masturbate are more likely to use a condom. Also, far too many girls are still missing out…
My Body Gallery is a new site that aims to shows "what real women look like."
Some interesting research into whether sex actually sell women's sports.
Five New Orleans police officers were found guilty of 25 counts of civil rights violations for shooting into a crowd of civilians in the wake of Hurricane Katrina.
An Iranian woman who survived an acid attack has pardoned the man who attacked her.
Oh Kreayshawn. "There's times when you're like shit, it sucks being white, you know?"
Hugo Schwyzer on "sugar daddy" relationships.
"There is a long history of pathologizing resistance to oppression that plays a key role in the depictions of mental illness in pop culture."
Depressing stat of the week: "Women have to have a PhD to make as much as men with a BA."
What turns women on: Still complicated as it turns out.
What have you been reading/writing this week?