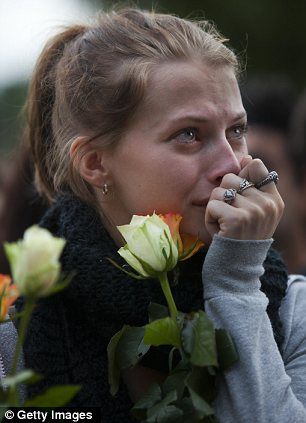 A woman mourns after a deadly terrorist attack in Norway.
This week's Wednesday weigh-in deals with grief, trauma, and how to cope.
76 are dead and dozens more injured after a devastating terrorist massacre took place in Norway on Friday. These numbers are hard for me to comprehend. The loss of life, the violence, the ensuing shock and fear, can feel pretty unbearable, especially when details have emerged demonstrating that the Norway killer hated women.
For this reason and more, this episode has struck a raw nerve with many feminists. As Jill pointed out on Feministe, he uses a lot of the same tropes as Men's Rights Activists. Nona Willis Aronowitz has written a great piece for Good Magazine about when anti-woman rhetoric and violence hits home.
It seems like an appropriate time to examine the relationship between feminism and grief.
A few months ago blogger TopHat wrote an excellent post about feminism and grief:
Where do the angry feminists come from?

…Angry feminists exist because we have experienced a loss in our worldview and are grieving. We can deny the sexism in our culture for only so long. Then we are hit with pain and fear: and we get angry. Yes, I was angry last week, last month, last year, but sometimes anger comes back because I haven't finished grieving and I need to cycle through it again.
I love the idea of leaving room in feminism for a grieving process that occurs after an awakening of consciousness. It's useful for me to think of feminism as a kind of coping mechanism for the pain of living in an unjust or unequal society. With these thoughts in mind, this week's Wednesday weigh in question is:
What role does grief play in your feminism? What do you do to cope with grief inspired by personal or public tragedy?