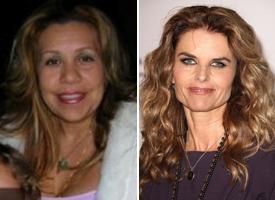 "Hell hath no fury like a reporter scorned by a cheating ex-husband keeping a love child and secret mistress."

"Home wreckers typically thrive on power and dominance, and are only excited when they feel like they are both getting away with something by participating in an affair and are stealing something from another woman."
These are just a few of the inflammatory and antagonistic things that were said in the media about the relationship between Mariah Shriver and Mildred Baena, the (now separated) wife and ex-lover of Arnold Schwarzenegger, respectively. While they were having a field day with the "love child" story the first broke back in May, many of the major media outlets and tabloids pitted Shriver and Baena against each other. Shriver was depicted as the scorned wife, humiliated because she was unable to keep her husband's sexual urges at bay, and Baena was the disloyal housekeeper, a jealous home wrecker who would do anything to make money or take something away from Shriver.
But today's well publicized interview– the first that Baena has given since the story broke– seems to turn this portrayal on its head, as it reveals not a trace of jealousy or animosity on Baena's part, at least. From Hello magazine:
"She [Shriver] would say things like, "I'm here if you need to talk." I sensed something was up. I have so much love and respect for Maria.

"Finally, she asked point blank."

But it was Maria's actions that shocked Mildred.

"She was so strong. She cried with me and told me to get off my knees. We held each other and I told her it wasn't Arnie's fault, that it takes two."

Finally, she [Baena] expressed her sympathy for Arnold and what he must be going through: "He's a good man and I know he's suffering too. He loves Maria. I hope with time they work things out." [Emphasis mine.]
Expressing love, respect, and well wishes towards a woman who is married to the father of your child? Not exactly the catfight narrative the media would have had us envision. This is not the first time that the media has called "catfight", and we've had to call "bullshit". But it is a refreshing, if somewhat tabloid-y example of relationships between females being defined by more than jealousy or resentment over a man.