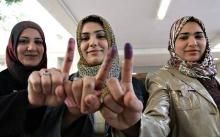 Three Iraqi women proudly display ink on their fingers, proof that they voted. Women in other Muslim countries including Jordan, Iran, Egypt, Turkey, Pakistan, Algeria, Morocco, Yemen, Syria, Libya, Malaysia, and more can vote. Photo credit: Center for International Private Enterprise.
In Saudi Arabia, all women, regardless of age, are required to have a male guardian. And despite recent promises to change the law, women still cannot vote or be elected to high political positions. In fact, they face beatings and arrest if they attempt to do so.
Which is what makes the attempts of of dozens of women across the country this week to register to vote so extraordinary.
As the Financial Times reports, last week a woman filed the first ever legal challenge to Saudi Arabia's prohibition on women voting in the kingdom, pointing out that "prisoners can vote here but not women." The court is expected to rule this week on whether to accept the claim.
And excitedly, in addition to this legal challenge, NPR's Soraya Sarhaddi Nelson recently interviewed a few of the dozens of women across the country of Saudi Arabia who decided to go to registration centers and demand voting cards despite the law of the land. Though their actions put them at risk of beatings and arrest, they pushed forward, using Twitter to organize, strategize, and execute their plans.
Sarhaddi Nelson interviews women who are openly fighting discrimination for the first time in their lives.
"Just going there, standing there, and talking to those that are responsible….this was a very very huge success" one woman said.
The last time women openly joined forces to overturn a law in Riyadh was two decades ago when a group of professionals defied a ban on driving. The result? Leaflets with their full names calling them whores and their husbands pimps.
Despite these grim histories, and despite the fact that the Saudi women say they feel they are the most oppressed women in the world, the activists told the NPR reporter that they are inspired by the activism that has come before them.
Reactions to their attempts "alternate between politeness and condescension".
Click here for video of one of their visits to a voting center. Click here for the NPR story, which includes audio interviews with some of the women activists.