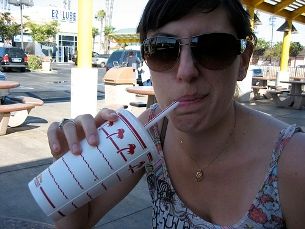 As you are doubtlessly already aware, Jessica has decided to end her tenure on the Feministing team. She describes her reasons here.
It's taken  those of us still here a bit of time to figure out what to say about Jessica's parting. It is so monumental in so many ways. There's really no way to thank Jessica for what she's done, not just for Feministing, but for feminism, through her work on this site. In some ways, it's a bit like expressing gratitude to your mother on your birthday. Um, thanks for my very existence?! It's just too large to wrap our big old feminist brains around.
Nonetheless, we do want to offer a massive, high-fivin', heart-burstin' thank you to our nearest and dearest colleague — and friend.
Jessica, we thank you for acting on your hunch that young women needed their own space in the burgeoning new media landscape. So many people think and even talk about such entrepreneurial moves, and never actual manifest them. You made it happen.
We want to thank you for your vision in creating our crew. From harassing Samhita to get her fingers on the keyboard, to encouraging Ann to bring some of her editorial juju to the blogosphere, to accepting and encouraging Courtney in all her ray of lightness, to making Miriam feel like a million bucks by giving her props on Radical Doula to, well, helping your little sister become an absolute badass from the time of birth. You have spent countless hours mentoring, cajoling, and comforting this community of writers and activists, and for this, we can not thank you enough.
We thank you for showing the fuck up day after day, week after week, month after month, year after year. For no money. For no boss. Just for the love of feminism and the conviction that young voices must and will be heard in the face of enduring injustice. In a life with so many complications, showing up for that long, that excellently, is a Herculean feat in itself.
Finally, we want to thank you for your voice. My god, your voice. You have a way with words, a sense of humor, and a sensibility that literally resurrected feminism from the doldrums of the 90s and gave it a hip, new life. We're deeply grateful that you respected the organic power of your own voice and, as you always do, let it fly. It's truly transformed an entire generation of young feminists.
This will always be your home, of course, and we will always be your dysfunctional, loud mouthed, loving feminist family. Best of luck with all your amazing new projects.
Love,
The Editors.