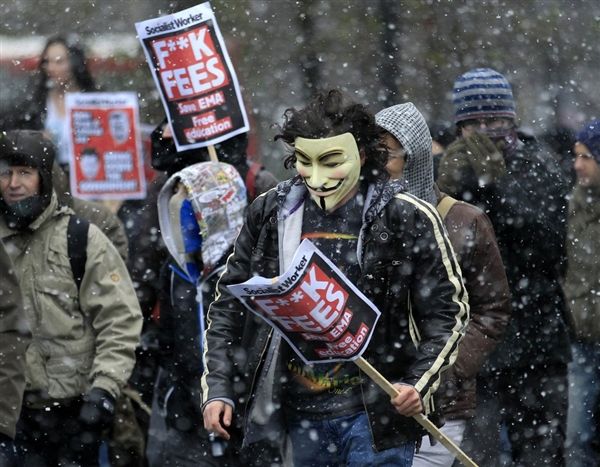 In the UK, a teacher has been suspended for encouraging her students to skip school to attend a political protest. Sue Caldwell, a math teacher at a North London high school, has denied the allegations. In The Guardian, one college student has come to her defense, arguing that education doesn't – and shouldn't – end in the classroom, and that there's nothing wrong with a teacher encouraging students to participate in the political process. Simone Webb writes:
In encouraging students to attend demonstrations, teachers can help to bring alive the theoretical lessons of a citizenship class. They can take the ideals of political involvement out of the classroom and on to the street. The atmosphere and excitement of a political demonstration can stay with young people for a long time, and the anger and passions provoked might lead to greater degrees of involvement and interest in politics. Encouraging students to go on demonstrations is almost equivalent to encouraging them to join a political party of their choice or to lobby their MP over a certain issue.
The problem, of course, is that in order to participate, the kids had to miss school. Webb argues that while no one should make a habit of cutting class, one missed day of school is a reasonable price to pay. And I have to say that I agree with her. I'm saddened by political apathy among young people and appreciate that this teacher was trying to get her students involved in an issue (university tuition hikes) that might directly affect them and that will no doubt have a considerable, if indirect affect, on the economy, the job market and the culture in the short and long term.
When I was in high school, my classmates and I were told we would be suspended or expelled if we skipped class to attend anti-Iraq War protests (some of us went anyway). The outcome of the Australian government's decision whether or not to sign on the Coalition of the Willing certainly had an indirect impact on the lives of young Australians, and I would never argue otherwise. Cuts to public education budgets and tuition increases will have a direct impact on current high school students who want to go to university, as well as those who will soon be competing in a job market that could be flooded with would-be college students who can no longer afford tertiary education. For this reason, this is an issue on which current high school students, even if they can't vote or should be in class, have every right to make themselves heard.
I also believe that it's unreasonable to expect political interest and involvement to magically materialize on a person's 18th birthday; if you want politically interested and active young voters, you need to create a culture in which young people can be politically involved before they hit voting age, too. Webb is right: education shouldn't end in the classroom, and in many ways, political involvement isn't something that can be taught in a classroom. Sometimes you just have to put down the books and hit the streets.
What say you, readers? Do you think it's appropriate for a teacher to encourage students to skip school if it's for a good cause?