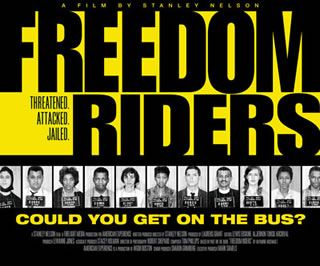 January 17, 2011 is the deadline to apply for the PBS contest to reenact the 1961 Freedom Rides. Via PBS:
In May 2011, forty college students will embark on a journey retracing the route of the original 1961 Freedom Rides and beginning an important national conversation about the role of civic engagement today. The ten-day, all-expenses-paid trip is a unique opportunity for college students who are committed to learning from history and to applying those lessons today.

American Experience will select students with a broad range of backgrounds– lending diverse voices to the journey. We are looking for students who want to share their experiences and who are eager to learn from their peers, from pioneers in the civil rights movement, and from today's civic leaders. Students should possess strong written communication skills and must demonstrate a commitment to civic engagement.
I could care less about a lot of reality TV shows because they err on the side of exhibitionism instead of introspection. But this opportunity seems markedly different. It allows students to learn from an act of resistance by reenacting it and provides a platform to share how this experience affects their notions of contemporary civic engagement. This is an example of how reality TV can be used for social good while promoting the growth and development of an individual. That combination stands to be a beautiful thing. So, if you are between 18 and 25, and you care about civic engagement and learning from history, apply!
H/t to Harlyn Pachexmix for the tip!