What would Anna Bligh do? That's the question some Australians have been asking as the flooding in the northeastern state of Queensland becomes one of the worst natural disasters in the nation's history.
Bligh is the Premier of Queensland, a position she has held since 2007, a member of the Labor Party, and the country's first popularly elected female state Premier. As heavy rains pummeled rural Queensland throughout late 2010, resulting in the rising rivers, spilled banks and flash floods that have now killed more than 20 people and destroyed thousands of homes, Bligh has emerged as something of a heroine in the midst of a crisis.
On Wednesday, the Sydney Morning Herald described Bligh as "indefatigable" in her involvement and engagement as the water continued to rise all over the state. "At press conferences, Bligh seems to know every tiny town in every valley, aware of who will face the next threat and how high the rivers will rise. She has been prepared to tell the nation to brace for rising death tolls, yet she has struck the right note of grim determination, tinged with emotion." The SMH has dubbed her "Captain Bligh."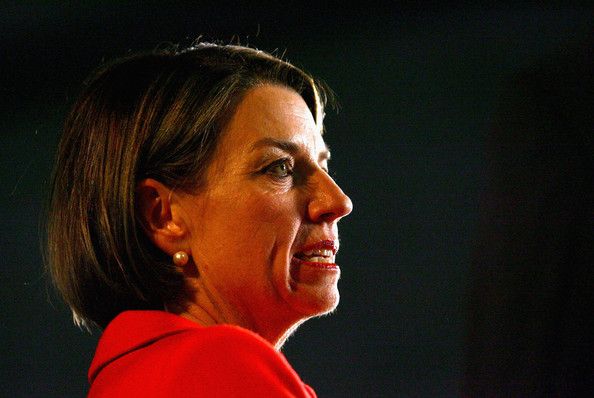 Australian feminist blog Hoyden About Town observes that despite Bligh's perfect on-paper feminist credentials ("she actually identifies as a feminist… she is openly pro-choice; has spent the bulk of her relationship to her partner unmarried to him; is a mother to two children and a successful politician; was herself raised by a single mother; and also has a history in the women's sector dating back to her university days"), Bligh has never been particularly popular with her electorate, with a public image that isn't terribly inspirational. But that seems to be changing: having seen Bligh lead with such competency and compassion over the last week, especially, many people are seeing her in a new light. Jessica Rudd, who grew up in Queensland (and who happens to be the daughter of the former Prime Minister and has therefore probably met Ms. Bligh in person), wrote:
When disaster strikes, as it has with mindboggling force in Queensland, we depend on a good leader to shepherd us through it and boy, do we have that in Anna Bligh. I hope my fellow Queenslanders realise the rest of the country is jealous of us. Even hardened political hack friends of mine down south can't help but gush about Anna.
Of course, now isn't really the time to be gushing. Now is the time to be hoping for the best, and being grateful for our emergency services workers, for the regular citizens who have been checking on, and in some cases saving, their neighbours, and of course, for the leaders among us who can work to solve our problems.
As a dual Australian and American citizen, this week has been a trying one. People have died preventable, violent deaths in both of the places I call home. In both cases, children have died. In both cases, a country is in shock and in mourning, and is struggling to pick itself up and carry on. And in both cases, leaders have stepped up to do what has to be done, which is to show us how to pick up and carry on; discouraged and devastated, but not despairing, and not defeated.
As Bligh said on Tuesday, this might be breaking our hearts, but it will not break our will.