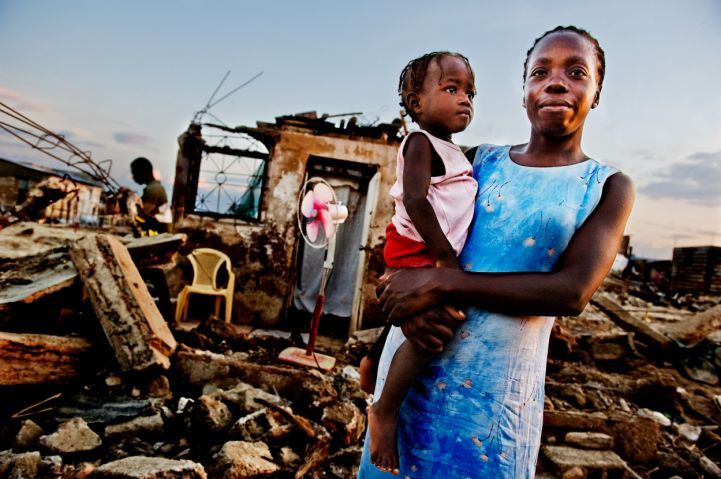 Today marks the one year anniversary of the earthquake that ravaged Haiti, killing 300,000 people and displacing millions.
A year on, we're hearing a lot about what's happening on the ground in Haiti, and the news is mostly disheartening.
As is often the case when enormous damage is done to basic infrastructure, cholera is running rampant. One English doctor, who has been on the ground working in a medical center for the last three months, estimates that over 2,000 people have died from cholera and that "the disease shows little sign of slowing down."
Mac McClelland, Mother Jones' human rights reporter, is currently in Haiti and is reporting on the progress that has been made in the last year. Her initial findings do not leave her feeling optimistic. She reports, as many have, that rape is rampant in the refugee tent camps where many displaced Haitians are still living. Abductions of women and girls are common.
In addition to the vast human toll still being exacted, the country still looks like it was just hit by an earthquake; Time estimates that only 5% of the rubble created when entire towns collapsed a year ago has been cleared. Until the rubble is cleared, rebuilding is impossible, and relocating people out of the camps where they are at constant risk of cholera and sexual assault is impossible, too.
There are a few glimmers of hope, albeit complicated ones. In The New Yorker, John Seabrook writes about his adopted daughter, Rose, a Haitian baby orphaned by the earthquake. Seabrook reflects on what he says is "the central moral dilemma" of international adoption: "that terrible misfortune for some can bring extraordinary joy to others."
I think about this all the time: when waking Rose up in the morning (she sleeps like a champ), or holding her hand on the street, or watching her open her Christmas presents, with her adoring extended family all around: without the earthquake, she wouldn't be here.
If you're on Twitter, I highly recommend that you follow Mac McClelland, who is tweeting from there right now ("You really don't realize how often/how many ways you touch your mouth until anti-cholera posters constantly remind you not to").
And if you want to donate to speed relief and rebuilding efforts in Haiti, UNICEF and The Red Cross are still collecting.