Hi folks! We're back from our long holiday weekend. Hope everyone had a nice time ringing in the New Year.
2010 was a rough one, to say the least.  A lot happened politically, environmentally, economically, socially. Remember the BP Oil Spill? The Haiti Earthquake? The rash of queer teen suicides? How about reproductive rights, especially abortion, getting totally screwed in health care reform? And the DREAM Act dying.
There were also a lot of good things about the year–even if I'm having trouble conjuring all of them up right now.
BUT thankfully it is a new year, and possibly a fresh start. Hopefully most folks at least got their fair share of a break from work/school and a chance to start 2011 renewed.
New year's resolutions tend toward the anti-feminist. Weight-loss promises are at the top of this list. Our girl Chloe had a few feminist body-positive resolutions she posted on twitter last week. Here's one: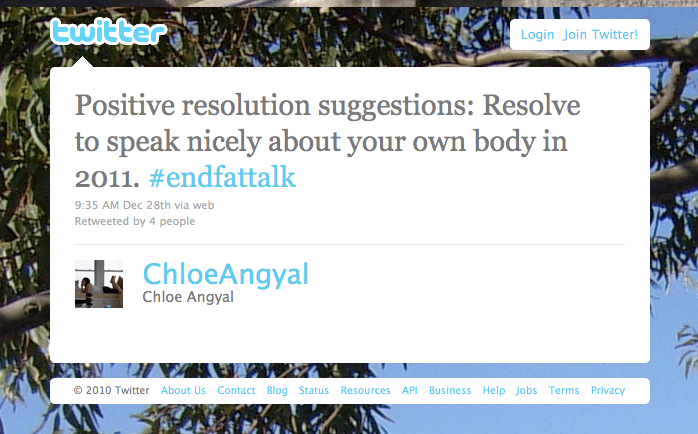 Anti-feminist resolutions aside, I do think the New Year is a good time to reflect on the past and think about what you might want to be different in the coming year.
I'm hoping to focus on embracing life with joy, a bit more distance and a few more deep breaths.
What are your hopes for 2011?