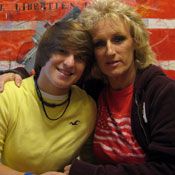 Jessica posted a while back about Ceara Sturgis, a high school student in Mississippi who was left out of her high school yearbook because she wore a tuxedo in her picture. This is the same state where Constance McMillen was excluded from her prom and Coy Sheppard was kicked off the football team for wearing pink cleats. The ACLU filed suit on Sturgis' behalf, and now, via a story from the Mississippi Clarion-Ledger and picked up by Jezebel comes word of the school district's response: well, she wore a bikini to the senior pool party, so there.
Yes, Copiah County School District is seriously using the fact that Sturgis wore a bikini once to try to undermine a suit claiming it was discriminatory to leave her out of the yearbook because she was wearing a tuxedo in the picture. They responded to a suit about discrimination on the basis of sex and gender stereotypes with more stereotyping. I guess if a woman wears a bikini ever it precludes her from ever deciding to wear traditionally masculine clothing. Forget about the fact that people's experiences and understandings of their gender change, or that no one fits perfectly into a narrow gender presentation box (OK, maybe there's someone out there who wears a bikini or a tux every day, and more power to them!). I guess the fact Sturgis ever went to a school event and presented gender in a way the district was OK with means she should be expected to continue presenting on the school district's terms.
If you, like me, have a huge problem with this (cissexist, heterosexist, transphobic, homophobic, misogynistic…) argument, you can contact the Copiah County School District here. And here's where you can donate to the ACLU of Mississippi, because clearly they've got some battles to fight.