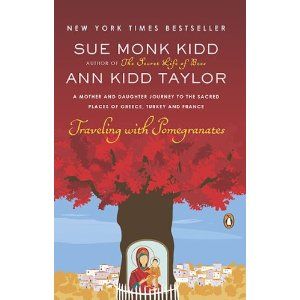 This travel memoir, co-authored by mother and daughter, is undeniably beautiful, but also a few metaphors and flowery descriptions beyond authentic. It falls squarely in the new camp of writers following in Elizabeth Gilbert's footsteps to take messy transition and reorder it into compelling, albeit disingenuous, narrative. Change, in my experience, doesn't happen in three perfect acts, each one accompanied by delicious food, dancing gentleman, and perfectly timed epiphanies.
Not so says Sue Monk Kidd, of The Secret Life of Bees, and her daughter, Ann Kidd Taylor, who interweave their twin stories of traveling to Greece, France, and home again, all the while processing big transitions in their lies. For Sue, it is menopause and her burning desire to switch from nonfiction to novel-writing. For Ann, it is post-college malaise, followed by her decision to become a writer.
Indeed, they both write with ease and charm. Sue, for example, reflects:
I feel the small curse of my introspective nature and its obstinate demands, how it wants to be allowed, wants my unhurried and undivided attention, how the moments of my life insist on being metabolized and given expression As usual, having failed to stop and tend to this unmitigated part of myself, it has stopped me.
But, too often, they also write with a sort of distancing and unending indulgence. Every move they make sees destined by a goddess figure—Joan of Arc, Athena, or Mary herself. Every stop on their tour produces a new, heart-stopping epiphany. They constantly mull over questions like this, also from Sue:
Dropping the rock into my bag, I slide out my journal. I scribble questions awkwardly, standing up, while the group moves on, leaving me behind. What was it about the Old Woman that could be healing for me? Freedom? The repose of belonging to oneself? Was it the wise and curative way of being? The release that happens when you suspend the ego and turn your attention to the soul of the world?
I don't know about you, but the scribblings in my journal rarely come out so profound and eloquent. More often, I wrestle with my wisdom and the less evolved parts of my being, and what emerges is a real, but inelegant mix of thoughts.
I admire these two women, their deep relationship, and love of history and spiritual stories. But I don't connect with their struggle. It's simply too cleaned up, rinsed of the messiness that makes us all human.