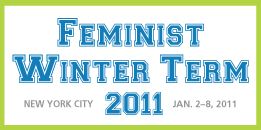 Then look no further. Amazing, bad-ass feminist authors Jennifer Baumgardner and Amy Richards (who are also coordinating Feministing's college tour) are hosting their annual Feminist Winter Term this January, which is a fantastic way for young feminists to meet each other and get a taste of what it's like being a professional feminist in New York. Here's a snippet:
Looking for something exciting to do this January? Want to kick off 2011 with a feminist immersion experience unlike any other? Why not register for the 2011 Feminist Winter Term in New York City, sponsored by Soapbox Inc., Speakers Who Speak Out!

The Winter Term is a week of meetings and events with feminist organizations and individuals small and large–everything from the Ford Foundation to BUST Magazine. In addition, we set you up with a day-long internship at places such as a feminist art gallery or the Ms. Foundation to give you a taste of what working as a professional feminist is like!
Check out all the exciting details here; the deadline is November 5th so don't wait too long to apply!