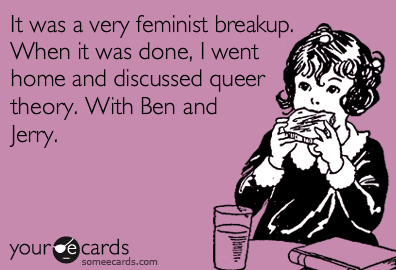 Last week, I celebrated a rather important occasion: the anniversary of a breakup. In October 2009, I ended an eighteen-month relationship with a man I loved very much. And this October, I celebrated the one-year anniversary of a really good decision.
My relationship with Isaac was an exercise in extremes. When things were good, they were really, really good. We were blissfully happy together. And when things were bad, well, they were awful. After graduating from college together, we both moved to New York. Moving to a new city and transitioning from being a college student into someone leading something that resembles an adult life is a challenge, for anyone. It can strain even the strongest relationships. My relationship with Isaac buckled under that strain.
It only took a few months for things to fall apart. He was working long hours in a conventional job, and I was interning, working part time and writing from home. I felt that my flexible schedule was being taken for granted – I suspected that he valued my time less, and believed I should work myself around his schedule, because he was paid so much more for his time than I was. Worst of all, I suspected that Isaac felt that way because ultimately, he didn't respect my less-than-conventional career choices.
Things got really bad, surprisingly fast. We had so little time to spend together, and in the time we did have, I didn't feel appreciated or respected or supported. I found myself asking him to appreciate and respect and support me, something no self-respecting woman should ever have to ask their significant other to do. I didn't like the way it made me feel about myself. I didn't want to be the girl who wonders – aloud, to her friends, for god's sake – whether or not her boyfriend respects her. When I realized that I had become that girl, I left.
Breakups are awful. Even when you're the one initiating the end of a relationship, you're not immune from breakup symptoms: heartbreak, disappointment, self-doubt and the desire to make a playlist of Taylor Swift's saddest songs and crawl into bed until the pain goes away. I felt all those things when I broke up with Isaac. But I also felt like I'd done the right thing for me, both personally and politically. And I think that those kinds of decisions should be celebrated.
Anniversaries, in their traditional form, celebrate the start of something. They celebrate the moment we made the decision to start a relationship that we're glad we started. But what about the decision to end a relationship that you're glad you ended? What about the decision to walk away from something that was hurting you? I believe that those decisions should be celebrated, too. It's not about being vindictive. It's about celebrating the moment you decided to love yourself and respect yourself and open yourself up to the kind of relationship you deserve.
And so, I propose the creation of a new occasion: the Scramiversary. It's a day to commemorate the moment when you decided, wisely, in retrospect, to get the hell out of something that was making you unhappy.  Get on that, Hallmark.