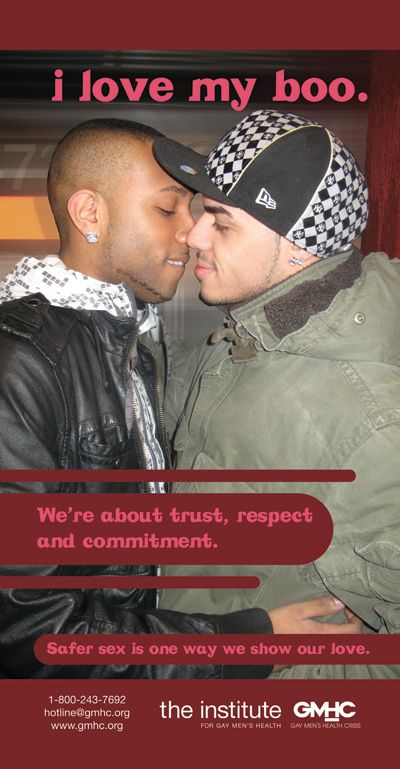 Last night on my home, I was delighted to see this ad on the subway. It's a part of a campaign, launched yesterday by the NYC non-profit Gay Men's Health Crisis (GMHC). With messages like, "we're proud of who we are and how we love" and "safer sex is one way we show our love," the "I Love My Boo" campaign aims to raise the visibility of black and Latino gay men, especially those in relationships, and to address the homophobia that makes gay men more vulnerable to HIV infection. The ads will be appearing in 1000 subway cars and on 150 subway platforms in NYC this month.
According to the GMHC:
This campaign educates the community at-large, and promotes acceptance and understanding in a climate where gay men of color are seldom represented favorably in the media. "The I Love My Boo" campaign speaks to, and celebrates, gay men of color by highlighting their strengths and resiliencies.  Rather than only sexualizing gay relationships, with chiseled bodies and glossy imagery, the beauty of this campaign is that it features intimacy and focuses on what is possible for gay men of color as they express trust, respect and commitment for one another.
You can learn more about GMHC and the great work they do here.