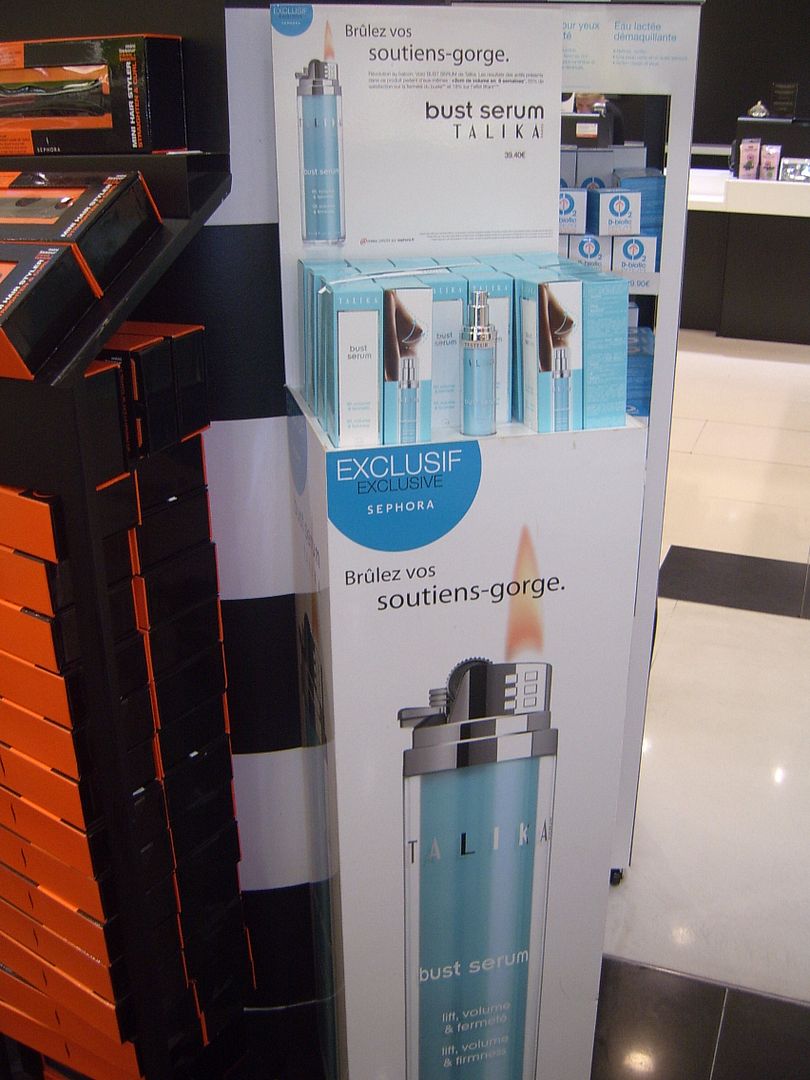 I was in Paris last week and against my better judgment, I went into the enormous Sephora on the Champs Elysées. It is huge, and overwhelming, and I'm convinced that after just a few minutes inside, my brain was totally addled by the smell of perfume.
But I'm pretty sure that, Dior-deranged or not, I would have been appalled by this ad for breast-firming cream:
The copy reads "Burn your bra."
I stood there open-mouthed, staring at this thing, until other shoppers started staring at me. I motioned to my mother – a bad-ass Second Waver, someone who was actually around when the stuff of bra-burning legend was taking place – to look at it. We both uttered variations of, "you have got to be fucking kidding me," and I was able to hold off an impending brain explosion long enough to take this photo.
I've written before about the use of feminist words and concepts – "empowerment," "confidence," etc. – to sell products to women. Often, those words and concepts are used to sell beauty products and fashion, the very industries that feminists believe exploit women's desires to live up to gendered and unrealistic beauty standards. And it's not just the beauty and fashion industries: feminism, or feminist-sounding rhetoric, at least, sells. Just last weekend in the New York Times, Peggy Orenstein wrote about "a trend [she has] noticed across a whole range of sectors over the last several months from big-box stores to high-end fashion to wireless-phone services to politics: all have discovered the sales potential in female pride."
But this? This is a step beyond "empowering" clothes. This is a spectacular exercise in turning a feminist message on its head and exploiting it. This is beauty culture appropriating our words, our criticism, and using it to sell bust serum. This… Is making my brain explode.