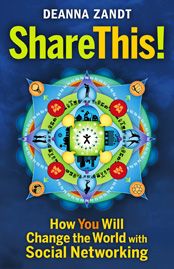 I recently had the pleasure of reading internet extraordinaire Deanna Zandt's newly released book, Share This: How You Will Change the World with Social Networking. You may have read her Feministing interview recently, but I thought I'd give you a bit of a better idea of what Share This offers its readers, and why you should buy the damn thing.
This book is not an instructional how-to on how to use social networking. It isn't a step-by-step guide on how to use hashtags. What this book offers is a perspective into how social justice and the internet can be intrinsically connected, how they may conflict against one another, and most importantly, how we — as activists, thinkers, and regular old folks who just want to do good in the world — can utilize social networking to create change.
Zandt tackles the personal questions that other social networking guides don't address, and dives into the complex issues that comes with engaging online, but in a very easy-to-understand way. The book almost reads like a blog: in a personal, humorous and relatable tone. Additionally, what it does teach you is how to engage online in a meaningful way: how authenticity is key, why relationships matter, tackling the personal vs. professional online identity, checking your privilege when engaging online (and the list goes on). She addresses all the questions you've thought about, offers questions you maybe haven't thought of but should have, and gives you true insight to all of these that will stay with you as you continue your path down social networking lane.
Transparent, poignant and real-to-life, this is the social justice activist's guide to social networking. And it will leave you feeling like you can change the world.